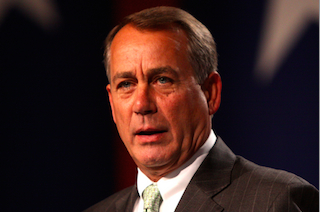 The conservative National Review editorialized Tuesday that Republican congressional candidates are being too "vague" in what their policy proposals for the country would be, should they make gains in the upcoming midterm elections.
Some reports suggest that the GOP may be heading into the midterm elections on a "wave" that will sweep Republicans into office, due to apathy among Democrats and a motivated conservative base.
"It must be said that the party has executed this passive count-on-a-wave strategy fairly well, selecting presentable and sometimes admirable candidates," the editorial said. "The strategy could even work. But it will not maximize the Republican opportunity, because it does nothing to dispel the public's justifiable doubts about whether Republican rule would be good for the country."
More from National Review:
Too many Republicans are running on the promise that they will "check" the president in some unspecified way. They are running as people who dislike Obamacare but have no plans to replace or alter it. But there are persuadable voters who worry that they will lose their health coverage if Republicans get their way, and ones who worry that Republicans will settle for Obamacare Lite. By keeping their plans on health care (and everything else) vague, Republicans are asking these voters to trust them. Yet the polls consistently show that the party does not have a lot of trust on which to rely.
The editorial goes on to suggest Republicans propose a replacement to the current health care law and a simpler tax code.
[Image via Wikimedia Commons]
— —
>> Follow Eddie Scarry (@eScarry) on Twitter
Have a tip we should know? tips@mediaite.com