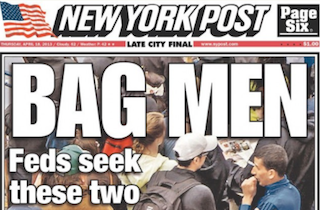 The New York Post defended in court its controversial cover misidentifying two men as suspects in the Boston Marathon bombing, arguing that the story was backed up by law enforcement efforts at the time, and that the incendiary "bag men" headline was just a "play on words."
The Post is embroiled in a defamation lawsuit from two men, Salaheddin Barhoum and Yassine Zaimi, whom the Post pictured on its front page under the headline "Bag Men: Feds Seek These Two Pictured at Boston Marathon." The two men had nothing to do with the bombing.
RELATED: Former ABC News President Slams New York Post For 'Bag Men' Photo: 'Not Just Wrong, But Inexcusable'
According to Washington Post's Erik Wemple, the men's lawyers argued that the front page coverage "unambiguously stated and/or implied that plaintiffs were involved in causing the Boston Marathon bombing," while the Post's attorneys responded that "the story was accurate and the headline was nothing more than a play on words." (Barhoum and Zaimi do in fact have backpacks on, though the bags held athletic gear.)
Per Wemple, the crux of the argument between the two sides is whether authorities only wanted to "identify" the two men in the pictures they posted online, or were actively seeking them as suspects. The Post argues that a law enforcement email proves the latter, but the plaintiff's lawyers dispute this interpretation.
The Post also provoked widespread criticism during the bombing for reporting that twelve people had been killed; in fact, the explosions caused only three fatalities.
[h/t TPM]
[Image via screengrab]
——
>> Follow Evan McMurry (@evanmcmurry) on Twitter
Have a tip we should know? [email protected]