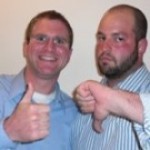 Who: Andre Agassi, interviewed by George Vecsey
What: Times Talks' "Game. Set. Conversation."
When: November 11, 2009
Where: The Times Center
Thumbs: As up as they go
Andre Agassi has made headlines of late because of shocking revelations in his new autobiography. But perhaps more shocking than anything else is his ability to comfortably talk about and intelligently analyze his life.
Agassi spoke candidly with New York Times sports columnist George Vecsey about the full gamut of his experiences: his youth, father, sport, hair loss, marriages, his drug use. So many panelists and celebrities present themselves in the way they want the world to view them, but Agassi laid himself emotionally bare, with no cloak to hide his imperfections. Agassi's book is titled Open, and we can't think of a more succinct, apt way to describe him.
One of the most controversial parts of the book is Agassi's admission that he hates tennis. Yet, after hearing about the pressures lofted onto Agassi during his childhood, you can't help but sympathize with him. His father forced him to play as a child, even building a machine – called "the dragon" – to shoot 100 mile-per-hour tennis balls at his five-year-old son. Does it surprise you then to discover that Agassi's father forced him to take speed before a match? It's no wonder that Agassi refers to his childhood tennis court as his "backyard prison."
Many people in his shoes would be bitter or angry. But Agassi is not. Despite revealing shocking stories about his father, he still loves him. He doesn't regret his mistakes or choices either. Agassi sees all of his missteps as building blocks for who he's become. Writing Open was a serious undertaking, and Agassi seems to have entered a personal therapy session to do it, coming out of it with the wisdom and insight of a wise old man.
We see a lot of panelists and rarely are we wowed by people. Andre Agassi left us in awe last night. He is a man who has marched through depression, drug use, and bad relationships and come out stronger on the other side. He speaks with honest abandonment, and he does it with the best intentions – to help others. He has already shaped many lives with his educational academy, and we suspect his book may help influence a number of others. And for someone who was once viewed as a punk and a showboat, Agassi has shocked them all with his turnaround.
What They Said
"They always wanted to talk to me about the subject I knew least about – which was me."
-Andre Agassi got to the core of why sports writing is so difficult, though apparently not for him – not now, anyway
"No one can beat a kid that hits over a million tennis balls a year."
– Andre Agassi's father had a Gladwellian philosophy on making his son the best in the world. Agassi would have made a good subject for "Outliers"
"People are angry and disappointed? I've been angry and disappointed at myself for years."
– Andre Agassi was way ahead of the curve on being angry at Andre Agassi. Hmm, maybe he would have been a good subject for "The Tipping Point" too.
"It certainly beats 'Image is Everything'"
– Andre Agassi liked Barbara Streisand naming him a "Zen Master" – once he found out what it meant
"I know how I feel about tennis now. I'm just waiting to see what tennis thinks of me"
– Said the Zen Master
What We Thought
A number of times during the night, Agassi tried to extrapolate lessons from his story. He audibly hoped that it might serve as inspiration for people who view themselves as stuck in dead-end jobs, bad marriages, or lives they no longer recognize. Sportswriters are always trying to generalize about athletes; Agassi seems to have done it himself.
Agassi told an incredible story about a time when he was nine years old and his dad tried to bet Jim Brown $10,000 to play tennis against him. They ended up playing for $500. The young Agassi proved victorious.
George Vecsey did a great job interviewing Agassi. A lot of moderators' egos cause them to get in the way and be in the spotlight. Not Vecsey. Not with Agassi as comfortable talking as he so obviously is. Vecsey took a page out of the Larry King style of interviewing – he was a minimalist in the best sense possible.
PANEL RULES!
Some audience behavior seems to repeat itself panel after panel. We'll be updating a running list of "PANEL RULES!" that will help ensure that you are not the dweeb of the Panel Nerds.
Panel Nerds Don't Like… Rocky VI
In the 2006 film, Rocky Balboa, Rocky is inspired to return to the ring when ESPN broadcasts a computer simulation of a fight where Rocky KOs the current champion, Mason "The Line" Dixon. An audience member wanted to know whom Agassi would have liked to have faced on the court. Though Agassi deflected the question with wit, we didn't need the hypothetical matchup. Though, if this leads him out of retirement to decisively defeat Roger Federer, we'll eat our words.
Have a tip we should know? tips@mediaite.com