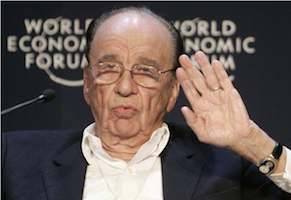 Rupert Murdoch dropped the hint that he was thinking about pulling The Wall Street Journal's content from Google earlier this week, decrying Google News and aggregator sites as thieves, "plagiarists," and "parasites." Conveniently overlooked: plenty of News Corporation sites pull content from other sites, some extensively.
TechDirt makes the excellent point that foxnews.com, All Things D, Rotten Tomatoes, and, yes, The Wall Street Journal's site all aggregate to greater or lesser extents, with Rotten Tomatoes, which is owned by News Corp. subsidiary IGN, being the closest to pure aggregation. Here's their writeup of the WSJ site's 'transgressions':
Well, let's start with the flagship Wall Street Journal itself. It integrates its own "aggregator" with headlines and links to other stories. For example, on the WSJ's tech news page if you scroll down, you'll find a bunch of headlines and links to other sources — without permission.

Oops. Looks like the WSJ is "parasiting" and "stealing" according to Murdoch. Perhaps he should cut them off too.
When Murdoch dropped the The Blogs predictably fell into a tizzy; the reactions split between "he's so dumb, u can't do that" and "he's probably just bluffing to negotiate for licensing fees from search engines." When a businessman is as shrewd and successful as Murdoch, it's wisest to give him the benefit of the doubt. But it's also fair to say that if he doesn't know what his own sites are up to, Murdoch — who Michael Wolff claims had never used Google as of a year ago — probably does not understand the Web's content economy very well.
Have a tip we should know? tips@mediaite.com