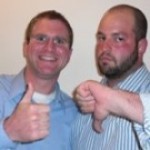 Who: John Nichols, Robert McChesney, Pamela Newkirk, David Carr, moderated by Laura Flanders
What: The Nation's The Death and Life of American Journalism: A Conversation
Where: New York Society for Ethical Culture
When: February 3, 2010
Thumbs: Up
For John Nichols and Robert McChesney, this was a book promotional event and an opportunity to outline their recommendations to save traditional journalism. It was a setup for a predictable night full of previews of what's contained inside yet another "save journalism" solution book. Yet, thankfully, David Carr took a topic that has been spoken about to death and breathed new life into the discussion.
That's not to say the writers didn't have a great deal to suggest and share – their $30 billion recommended government subsidy has generated much attention. In fact, both Carr and Pamela Newkirk had read and digested the pair's book in anticipation of the panel and referenced specifics in their insights and responses. It was Carr, however, who stirred the pot by taking issue with the pair's controversial plan to get government heavily involved with journalism's resurrection. While Carr believes that government can play a role, he questions whether a government-run press will actually lead to watchdog journalism that capably patrols the institutions that feed it.
And so the debate began and never really ceased. Both Nichols and McChesney were civil in their defenses. McChesney argued that their book is not intended to be the end-all and be-all of journalism solutions, but was written to get the discussion going. (That "just getting the ball rolling" position reminded us of the Freakonomics duo.) He said that before 1875 – when advertising began to fund and fuel the media – the U.S. government paid for the press, and there's no reason we can't return to a similar model in order to bail newspapers out during their toughest times.
Newkirk didn't offer any solutions, but did say enrollment numbers at journalism schools are on the rise. She added that while the internet is ushering in a new era of media, it isn't designed as a substitute for newspaper reporting. A true replacement with a major overhaul might not come any time soon either. Nevertheless, it's worth noting that there are some opportunities available for those seeking them.
What They Said
"It's an acute crisis, not something that can wait five years or ten years to shake out."
– Pamela Newkirk is growing more concerned about fixing journalism
"This is a problem with a media system that treats people as nitwits and [therefore] doesn't give them the information."
– John Nichols thinks that improvements begin with attitude, not finances. He also uses the word "nitwits." Nice.
"I plan to continue covering the media until I write about myself: 'David Carr got laid off today.'"
– David Carr is going to create another Moses conundrum

"We will always have news, but it will be journalism-free news."
– Bob McChesney believes that newspapers have already begun to loosen their ethical standards to cater to those with agendas to push. This is like soy "milk." Can we really still call it newspapers?

What We Thought
Before giving his first remarks, Carr thanked everyone in attendance for coming out and showing their concern for the future of the press. He seemed to appreciate that at least 100 people chose a journalism program over Avatar. Imagine how big a crowd they'd get if they did the panel in 3-D.
McChesney gave a statistic that 86 percent of stories that came out of Baltimore newspapers last year originated from public relations companies and press releases. We at first balked at that number, before recognizing what a service these releases provide. It's not a message about laziness or influence, but one about making the most of limited resources.
We liked that McChesney and Nichols were so honest and up front about how difficult it is to make money online – only about 2,500 journalists do it. The internet is simultaneously giving journalists future paths and holding them back. The internet is to journalists what alcohol is to Homer Simpson: the cause of, and solution to, all of life's problems.
PANEL RULES!
Some audience behavior seems to repeat itself panel after panel. We'll be updating a running list of "PANEL RULES!" that will help ensure that you are not the dweeb of the Panel Nerds.
Panel Nerds don't like… An Arm Around the Girlfriend
For the most part, we were thoroughly impressed with Laura Flanders' managing of the panel. But midway through the Q&A section – during which she was handed business cards with prepared questions – Flanders read three questions in succession in order to speed up the process. She then asked the panel to chime in on any of their choice. This reminded us of our high school teacher's admonishment that "if you drive with one arm on the steering wheel, and one arm around your girlfriend, you're not paying enough attention to driving – or to your girlfriend."  If questions are good enough to ask and entertain, they deserve time and investment. But to packages three questions together like that does a disservice to the panel. It's better, in our opinion, to just get to fewer questions than you'd have liked.
Have a tip we should know? tips@mediaite.com