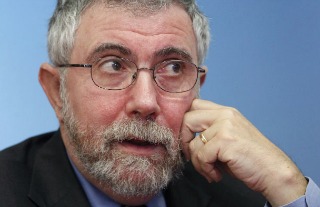 New York Times columnist Paul Krugman is displeased with The Washington Post for allowing wonk-star columnist Ezra Klein to depart for new media pastures.
In a Tuesday evening post on the Times' website, Krugman lamented that "The Washington Post is De-Kleining" by allowing the exit. "You idiots!" he charged.
Krugman took a minor swipe at the Post, accusing it of having engaged, in the past, in simply regurgitating the information disseminated by authority figures with an agenda. Klein and his colleague Sarah Kliff, he said, helped fill that information gap with a strong understanding of policy issues:
What Ezra and company brought was a combination of sophistication about policy issues and skepticism toward the Very Serious People. Ezra and Sarah Kliff really understood health policy, and knew that if you needed to know more, you called Gruber or Cutler, not Senator Bomfog. Others on the team actually understood macroeconomic policy, and knew that you shouldn't treat the hacks at Heritage as if they were symmetrical with, say, the careful wonks at the Center on Budget and Policy Priorities.
Krugman also wondered aloud whether Klein was met with hostility from the Post's older class of writers:
I have to say, I wonder — based on nothing at all — whether there wasn't some hostility to Wonkblog among older-line journalists at the Post. Just a feeling, based on extrapolation from some other cases I know about.
He concluded: "I wish Ezra best of luck in his new venture. And let's hope that the Post understands what it has lost, and needs to replace as best it can."
Despite letting Klein depart, the paper has been busy on the hiring front, adding Huffington Post senior writer Radley Balko as a columnist and The Volokh Conspiracy (a libertarian-leaning law and public policy blog) to its roster.
[h/t Dylan Byers]
— —
>> Follow Andrew Kirell (@AndrewKirell) on Twitter
Have a tip we should know? tips@mediaite.com