Brutal Coverage Of Trump Visit To Iowa Game Includes 'Where's Melania?' Banner — Middle Fingers Everywhere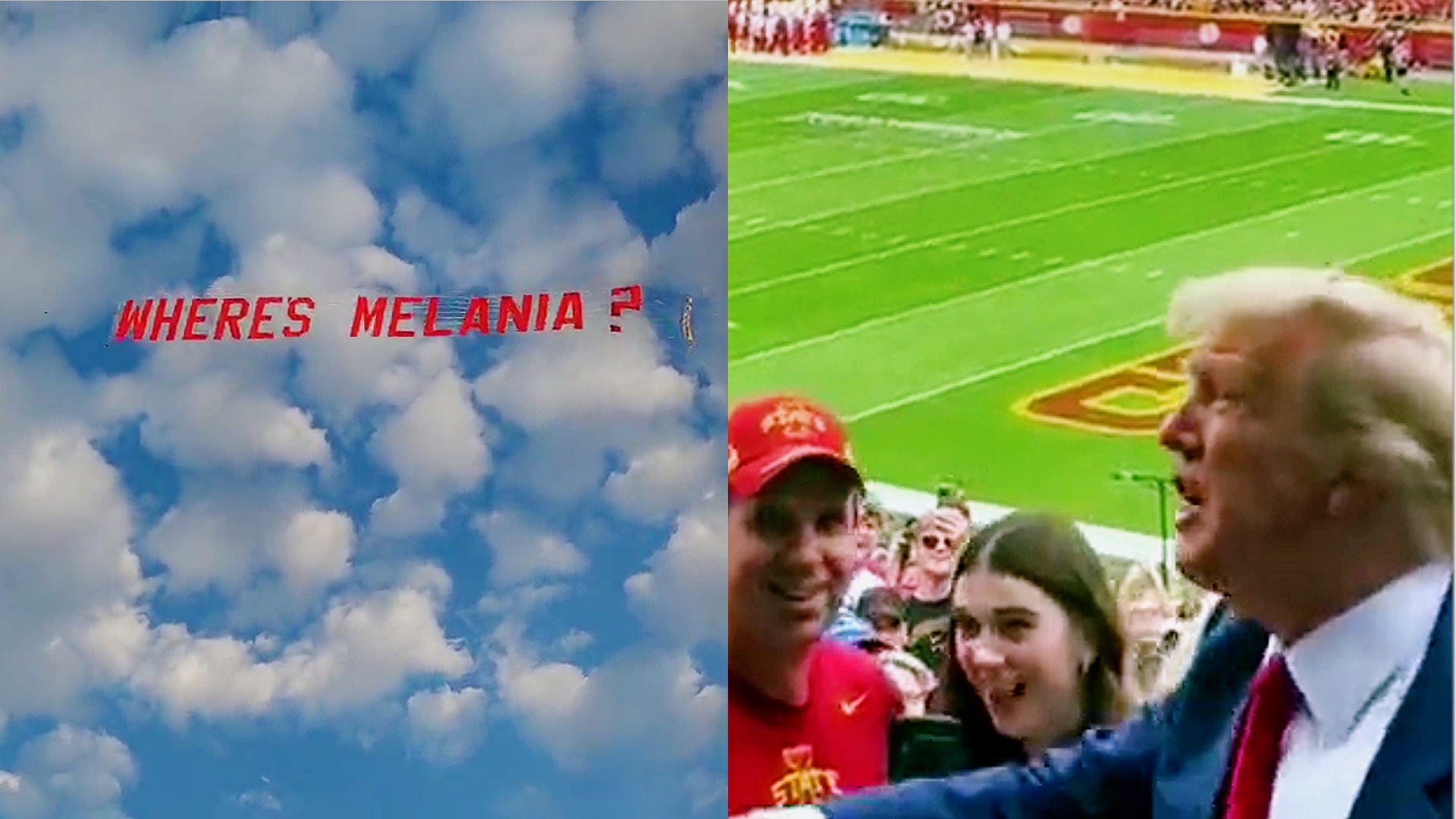 The brutal coverage of ex-President Donald Trump's visit to the Iowa-Iowa State featured a focus on critics' antics that included middle fingers before and during the game, a "Where's Melania" banner, jeers, and more.
Trump made quite a show of his trip to the Iowa-Iowa State game at Jack Trice Stadium, first stopping to visit the Alpha Gamma Rho fraternity house in Ames, Iowa, where he flipped burgers and tossed footballs for what pro-Trump outlet Right Side Broadcasting Network (RSBN) called "hundreds" of students at the agricultural frat. The pro-Trump outlet was on hand to cover the photo op from start to finish.
Things were happier at the frat house than at the stadium, where there was cheering but also multiple videos featuring loud booing and a sea of middle fingers for Trump — and boos could even be heard on RSBN's feed.
CNN focused on the cheers and ignored the jeers. But Trump is well-known to place a lot of stock in coverage from prestigious outlets like The New York Times, and the story there and from the Associated Press included some intensely negative details. From NYT:
The former president entered the game to a mix of applause and audible boos, as a plane with a banner reading "Where's Melania?" flew overhead — a nod to the absence of his wife from the campaign trail. Some attendees gave him the middle finger from the stands while he looked on from the glass-paneled box from which he watched the game.

Two people wearing inflatable costumes resembling Mr. Trump and Anthony Fauci, who managed the Covid response during the Trump administration and has been a target of Mr. DeSantis's — took photos with game attendees.
The Associated Press noted some of the same details, as well as middle fingers directed at Trump's motorcade:
There were some insults during the day. Some fans walking the streets made profane gestures at his motorcade as it moved through Ames.

Prop planes flew over the stadium carrying a banner that read, "Where's Melania?" The former first lady has been largely absent from the campaign so far.

And hired performers wearing inflatable costumes, one posing as Trump and the other infectious disease expert Dr. Anthony Fauci, held hands as they roamed the parking lot in face masks.
Social media users posted photos and videos of what the papers reported, including the "Where's Melania?" plane taking off.
—
Have a tip we should know? tips@mediaite.com