White House Strikes Out With 'World Cup Series' Champion 'Red Socks' Welcome Messages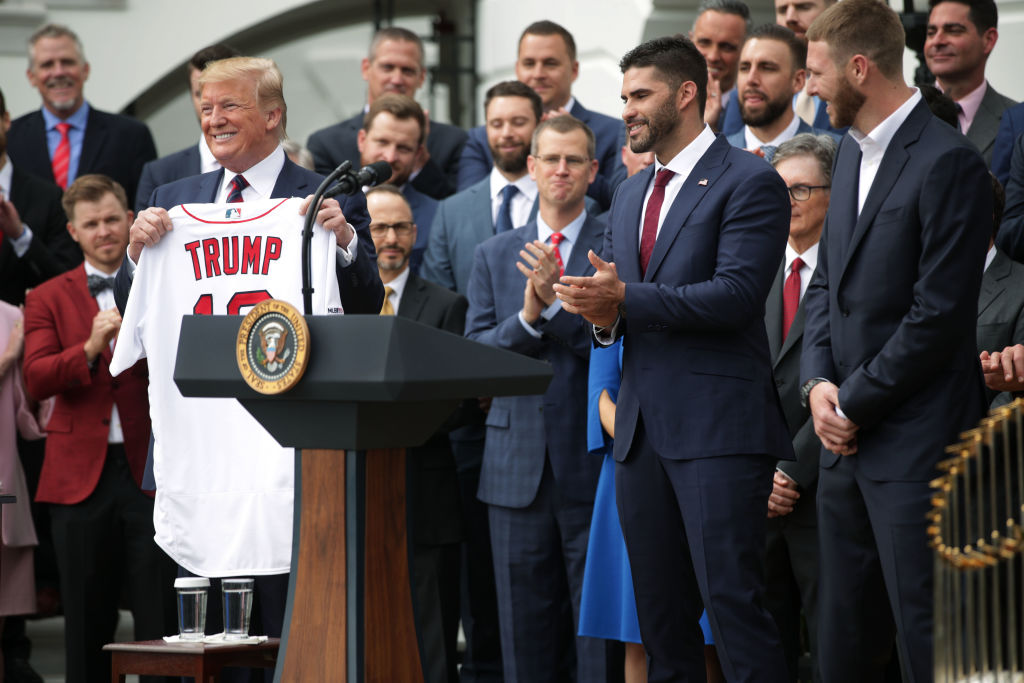 Is the White House protocol team packed with snarky Yankees fans or just people who don't care much for the sports ball?
Either way, it ended up drawing plenty of high heat from both Boston Red Sox fans and Twitter for making not one, but two errors while trying to welcome the 2018 World Series champions to the White House.
When the White House's first press release about the visit came out, the Boston Globe noticed a little something wrong with the team name, as it was inexplicably spelled "Red Socks" instead of "Red Sox." It seems that having the latter sewn directly onto the home uniforms wasn't enough of a helpful hint for the White House.
As might be expected for such a bone-headed mistake, folks on the Internet took umbrage:
Move over, @RedSox. The Red Socks are the new World Series champs. https://t.co/5jkgokNorz

— Twitter Moments (@TwitterMoments) May 9, 2019
Hey Boston Red SOCKS get ready for your hamberders! ? https://t.co/l7CjzhMZ08

— Barbie Williams (@Barbie892) May 9, 2019
After realizing that mistake, the White House issued a second press release, but this one went foul as well. In it, Trump's staff touted the Red Sox as being something called "World Cup Series" champions, somehow conflating the championship titles for American baseball and international soccer. This too got noticed.
This is some un-American shit pic.twitter.com/3qseaKi90w

— Matthew Yglesias (@mattyglesias) May 9, 2019
If any Democratic White House had called the Red Sox the "Red Socks" and called the "World Series" the "World Cup Series" Fox News would yammer about it for *years*.

— David Atkins #11Justices (@DavidOAtkins) May 9, 2019
This White House is breathtakingly incompetent. They can't even invite a baseball team to the White House without messing up. They called them the Red "Socks" and then referred to them as the "World Cup Series" champions. Not exactly reassuring given everything else they oversee. https://t.co/Y1n2dhdoYl

— Brian Klaas (@brianklaas) May 9, 2019

The team's visit to Washington, D.C. was already fraught with controversy since only about half the team—mostly white players—chose to attend the White House ceremony and meet President Donald Trump. Many other black and Hispanic players, including 2018 AL MVP Mookie Betts, skipped the meeting to protest Trump's policies. Red Sox manager and Puerto Rico native Alex Cora refused to go as well. Cora has been outspoken about what he thinks was the Trump administration's inadequate federal recovery effort in his home island after Hurricane Maria devastated it in 2017.
Cora and the other players boycotting Trump got some moral support from former Red Sox slugger David Ortiz—a U.S. citizen who immigrated from the Dominican Republic—who weighed in on the team's visit to the White House as well. "You don't want to go and shake hands with a guy who is treating immigrants like shit because I'm an immigrant," Ortiz said, referring to Trump. "It's like you are going to shake hands with the enemy. Think about it, all the stuff that has been going on since he took office. People are angry. People are mad. He has divided people, that's how it feels like."
David Ortiz on why he wouldn't give Donald #Trump the photo op his former white teammates on the Boston #RedSox are doing today. "You don't want to go and shake hands with a guy who is treating immigrants like [expletive]." https://t.co/LeZ45LaegC #RedSocks

— David Beard (@dabeard) May 9, 2019

And the hits just kept on coming for the White House on Thursday, when one reporter noted that it had actually managed a hat trick of Boston-related press release mistakes:
I know there are bigger issues to focus on than clerical errors by WH staff, but a trifecta today:

1. "The Red Socks"
2. Massachusetts "Instutution" of Technology
3. The "World Cup Series Champions" pic.twitter.com/At1vwd1CXE

— Eli Stokols (@EliStokols) May 9, 2019
[Photo credit: Alex Wong/Getty Images]
Have a tip we should know? tips@mediaite.com