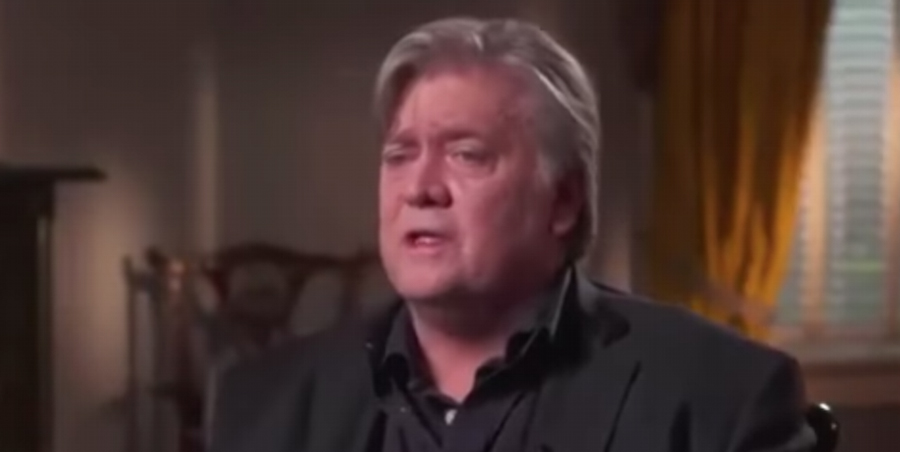 It was only a matter of time before bombshell books on President Donald Trump and his tumultuous first year in the White House started dropping. Here we are, just three days into 2018 and we have our very first contender. Michael Wolff's "Fire and Fury: Inside the Trump White House" isn't even out yet and it's already juicy.
According to The Guardian, who got a sneak peek at the forthcoming manuscript, journalist Wolff maintained unprecedented access to many members of the secretive administration.
One such member was former White House chief strategist, Steve Bannon. His appearance in the book has already proven to be noteworthy, thanks to his long-standing disdain of Jared Kushner and his propensity to say jaw-dropping things.
As a matter of fact, here are five of them. We are sure there will be 500 more once this book drops on January 9:
1. He thinks Don Jr. is utterly and totally screwed.
Here is what Bannon had to say about good ole Donald Trump Jr., who has found himself in the crosshairs of the Robert Mueller probe in recent months. He predicts the probe will eventually turn its eye to money laundering and that Trump Jr. will find himself on the receiving end of a live ass-whooping.
"They're going to crack Don Junior like an egg on national TV," he said.
2. He thinks the Trump Tower meeting was "treasonous," "unpatriotic" and "bad shit." 
The now-infamous June 2016 Trump Tower meeting, in which Trump Jr., Kushner, then campaign chairman Paul Manafort and Russian lawyer Natalia Veselnitskaya booked a conference room on the 25th floor to allegedly discuss dirt the Russian government had on rival Hillary Clinton, has become a focal point for scrutiny on the campaign's Russia ties.
Bannon has some words on this meeting, and they are harsher than one would expect.
"Even if you thought that this was not treasonous, or unpatriotic, or bad shit, and I happen to think it's all of that, you should have called the FBI immediately," he said. "But that's the brain trust that they had."
"The three senior guys in the campaign thought it was a good idea to meet with a foreign government inside Trump Tower in the conference room on the 25th floor – with no lawyers. They didn't have any lawyers."
3. He would have conducted the meeting, just not at Trump Tower.
Bannon goes on to say that if a meeting with Russians had to be conducted, it should have been set up "in a Holiday Inn in Manchester, New Hampshire, with your lawyers who meet with these people."
"You never see it, you never know it, because you don't need to," he said of the potential Holiday Inn meeting, which would have denied culpability to any major players in the campaign.
4. He seems to diss Breitbart, his own publication.
Steve Bannon and Breitbart News go together like peanut butter and jelly — he even returned to the website after leaving the White House — so it comes as a surprise to learn he has a seeming disdain for the publication he helped turn into the platform of the alt-right movement.
As Bannon described that fictional Holiday Inn meeting, he said that any information gleamed from the Russians could then be "dump[ed] … down to Breitbart or something like that, or maybe some other more legitimate publication."
Yeah. You read that right. "Some other more legitimate publication." The ghost of Andrew Breitbart is not pleased.
5. He minces no words while discussing his former nemesis: "The Kushner shit is greasy."
Bannon saves all of his best stuff for Kushner, quite literally calling his involvement with the Russia scandal "greasy."
"This is all about money laundering. Mueller chose [senior prosecutor] Andrew Weissmann first and he is a money-laundering guy. Their path to fucking Trump goes right through Paul Manafort, Don Jr. and Jared Kushner, he said. "It's as plain as a hair on your face."
"It goes through Deutsche Bank and all the Kushner shit. The Kushner shit is greasy. They're going to go right through that. They're going to roll those two guys up and say play me or trade me."
Bannon's scorn for the administration he left behind, aside from its leader, is palpable, especially when he describes their strategy, thus far, for dealing with the Mueller investigation.
"They're sitting on a beach trying to stop a Category Five."
The excerpts from Wolff's forthcoming book do not just include wild comments from Steve Bannon. Thomas Barrack Jr., a billionaire who is one of the president's oldest associates, is quoted as calling Trump "not only crazy," but also "stupid."
[image via screenshot]
—
Follow Lawrence Bonk (@sidescrollers) on Twitter
Have a tip we should know? tips@mediaite.com