Alan Colmes And James Pinkerton Battle: Why Are Soros-Funded Liberal Media Outlets Defending The IRS?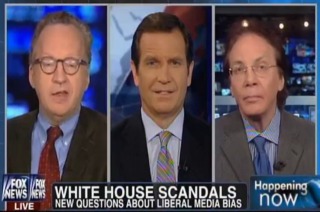 A Fox News Channel panel exploded on Monday over the question of whether the mainstream media, prompted by liberal media watchdog groups funded by billionaire activist George Soros, have shifted from condemning to defending the IRS's targeting of conservative groups. Fox contributor Jim Pinkerton and Fox News radio host Alan Colmes battled over whether there was a concerted effort by the media to cover for the politically-motivated harassment of the White House's political adversaries.

RELATED: Fox Hosts Tear Into IRS' Lois Lerner For Refusing To Resign: 'What Kind Of A World Is This?'
Pinkerton began by quoting a variety of media writers who have noted how rarely the members of the mainstream press have criticized this White House in contrast to previous Democratic administrations.
"To say that 'never before has the media been so aligned with the party in power' is, to me, just patently absurd," Colmes shot back.
Fox News anchor Jon Scott challenged Colmes, saying that many left-wing media outlets have defended the IRS's activities. Colmes agreed and added that the IRS should have gone after every political organization that filed for tax-exempt status as a charity.
"I don't think anybody – perhaps you and the people funded by the George Soros media consortium – think that the IRS was evenhanded," Pinkerton countered.
Colmes noted that editorial writers and columnists with the New York Times and The Washington Post have criticized the IRS unequivocally. "This isn't a liberal consortium supporting what's going on," Colmes said.
Pinkerton noted that it is not all left-leaning media outlets, but there has been a nearly uniform defense of the IRS by organizations funded by Soros. Colmes and Pinkerton battled over the connection that was being drawn between Soros and liberal outlets defending the IRS.
"What about the president's half-brother opened that 501(c)4 organization, The Barack H. Obama Foundation?" Scott asked. "Does that deserve tax-free status?"
"I'm not defending any of them do," Colmes replied. Pinkerton and Colmes then exploded over the assertion that the IRS evenly targeted liberal and conservative groups seeking tax-exempt status.
"Every show on MSNBC, except for Morning Joe, is saying that the IRS did the right thing," Pinkerton asserted. "That's where the bias comes in."
Watch the clip below via Fox News Channel:
> >Follow Noah Rothman (@NoahCRothman) on Twitter
Have a tip we should know? tips@mediaite.com