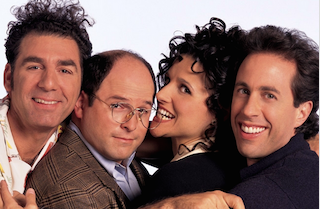 17 years after it ended its run on NBC, you can still find reruns of Seinfeld on multiple TV channels most afternoons. But you still cannot stream any episode you want online. That may be about the change.
The Wall Street Journal reported Friday the Sony Pictures Television, which owns the show, is in "advanced talks" to sell the streaming rights to one of several major online platforms.
Amazon, Hulu and Yahoo are all apparently in the mix, but the biggest player of them all is missing. Netflix passed on picking up the show last year, according to the WSJ's reporting. That decision came despite a clear demand of the show on the streaming service. When you Google Seinfeld, "seinfeld netflix" is one of the most popular choices that pops up in the query window:

The primary reason Netflix likely decided to move aside was the insanely large price tag Sony is asking. While they paid more than $500,000 per episode for Friends last year (for a total north of $118 million with 236 episodes), Sony wants an even higher price for Seinfeld. With 180 episodes of that show over nine seasons, the total cost could easily top $100 million, depending on how much time the deal covers.
Recent acquisitions for the top companies in contention include HBO shows like The Sopranos and The Wire for Amazon, a brand new season of Community for Yahoo and CBS's CSI: Crime Scene Investigation for Hulu. But none of the sites have a television library that can compete with that of Netflix, which has full seasons of popular shows like The Walking Dead along side original series like House of Cards.
Whichever site ends up streaming Seinfeld, the real winners will be show creators Jerry Seinfeld and Larry David, who have already pulled in hundreds of millions of dollars each in syndication revenue over the last couple of decades.
[Photo via TBS]
— —
>> Follow Matt Wilstein (@TheMattWilstein) on Twitter
Have a tip we should know? tips@mediaite.com