Anderson Cooper Nails Rep. Alan Grayson Over Misleading 'Taliban Dan' Campaign Ad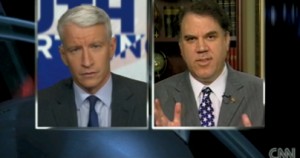 By now, pretty much everybody discredits and disdains the 'Taliban Dan' ad commissioned by Rep. Alan Grayson. Well, everybody except for Alan Grayson, who's still defending his attack ad on cable news networks. The Democratic congressman first took his case to MSNBC's unconvinced Contessa Brewer, and last night he visited Anderson Cooper, who was also tough on him. Cooper plainly accuses Grayson of misrepresenting his Republican opponent Daniel Webster, saying, "You can't argue that." The wily Grayson responded: "I don't know why you keep saying I can't argue this, that, or the other thing."
The Florida congressman tells Cooper that his intent was "to point out in a vivid way that [Daniel Webster] is someone with an 18th Century name and a 13th Century conception of how women should live in America." Cooper points out that Grayson had to twist words and edit footage to make his point, to which Grayson responds:
I don't agree with that. … I've seen that speech, and I think that [my ad] reflects exactly what his conception of women actually are.
Cooper then cited the basic tenets of ethical journalism:
We wouldn't be allowed to do that in news. What gives you the right to do that when you're trying to get people's votes?
But the unapologetic Grayson claims that "we've moved away from the whole subject of whether he was quoted in context or out of context," as if it only takes a week for someone to get over being accused of being a Taliban sympathizer on national television. Cooper, too, found this to be disingenuous.
Watch the two duking it out on last night's Anderson Cooper 360:
Have a tip we should know? tips@mediaite.com