Assault Victim Cited in George Will Column: 'This Isn't a Privilege for Anybody'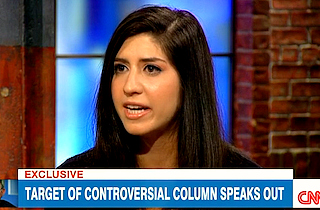 In her first televised interview, Lisa Sendrow, the target of Washington Post columnist George Will's column on "sexual assault" (his scare quotes), spoke out about his labeling victimhood a "coveted status," arguing that in fact too many assault victims are afraid to come forward because of reactions exactly like Will's.
"He made so many grotesque remarks about sexual assault, dismissing not only my claims but essentially using that as a way to dismiss all sexual assault claims, diminishing what it looks like on college campuses, as if it doesn't exist," Sendrow said on CNN's New Day Wednesday morning.
"There are so many people on college campuses…who don't come forward and are afraid to talk because of things like Will is saying, that this doesn't exist, that this is a privilege for us to be sexually assaulted," she continued. "This isn't a privilege for anybody."
RELATED: Editor That Pulled George Will Column: It 'Trivializes Sexual Assault Victims'
"The way he framed it made it seem like it's only women who are crying and don't have any reason," Sendrow said. "That's not the way it is…If someone came forward who he knew extremely well saying that this happened to me and I was afraid and I don't want to go outside anymore, I don't want to go to class anymore, how would he react to that?"
Sendrow said Will has not reached out to her about the column, but that she'd be willing to have a conversation with him. She added that she hadn't really been aware of Will before the piece as "she doesn't really watch a lot of TV," which has gotta hurt.
Watch the clip below, via CNN:
[Image via screengrab]
——
>> Follow Evan McMurry (@evanmcmurry) on Twitter
Have a tip we should know? tips@mediaite.com