Barbara Walters Learns What 'Smoosh' Means During Interview With Jersey Shore Cast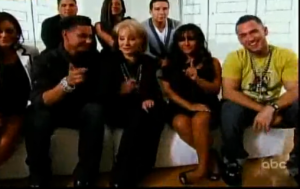 Here is what Barbara Walters says at the beginning of the following clip: "I never got that big interview with Jacqueline Onassis or Greta Garbo—but now I have some consolation. Ladies and gentlemen, my interview with the cast of Jersey Shore." Dear Lord.
Because the audience for Barbara Walters specials and the audience for MTV travesties doesn't necessarily overlap, the news veteran takes a moment before the interview to briefly explain precisely why these idiots are famous. "Their main activities are tanning, partying, and making out with strangers," she intones as footage of the aforementioned activities plays. Then, because this interview is a part of Walters's 10 Most Fascinating People package, she asks the seven Shore-ers (Angelina, unsurprisingly, didn't make the cut) whether they think they're fascinating.
"I think I'm fascinating, yeah," Snooki promptly answers, eliciting a chuckle from The Situation. "I think we're all just one of a kind, and that's why I think the show has been so huge." And it's all downhill from there.
Other highlights include Pauly D saying that he isn't trying to represent all Italians (did we just hear Italy sigh in relief?), Ronnie revealing that he owns his own "real estate company," the jaw-dropping disclosure that The Situation made $10 million this year, and Snooki calling Babs "actually really hot in person." Oh, and Walters getting the crew to explain their unique vocabulary—GTL, grenade, smush—to her.
"Well, I must say that this is an interview unlike many that I have done before," Walters says at the end of the clip. Maybe if we hope and wish hard enough, nothing like this will ever happen again. Watch the interview from ABC News below.
Have a tip we should know? tips@mediaite.com