Bill Maher's New Rule To Conservatives: 'You Act Exactly Like 14-Year-Old Boys'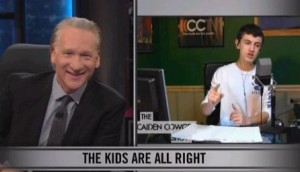 If there's one thing our society needs more of, it's teenagers speaking out on political issues. Bill Maher, in his final New Rule of the night, pointed to two instances where conservatives went through teenage vessels to spread their message and observed that the young voices sounded much like the old ones. Maher found this somewhat discouraging for conservatives, because, as he put it, that would mean their political arguments make them sound like teenagers.
RELATED: Teen Radio Show Host Blames Obama For 'Sickening' Gay People: 'Homosexuality Is A Belief'
Maher introduced his audience to Caiden Cowger, a fourteen-year-old conservative with his own radio show. Cowger got some national attention this month for accusing President Obama and Vice President Biden of "making kids gay." Maher couldn't get over the fact how much this teenager sounds like Rush Limbaugh. Maher also reminded viewers about Jonathan Krohn, the young teenager who spoke at CPAC a few years ago.
Maher said he understands that all teenagers can be assholes at one time or another in this important phase in their lives, mostly where politics aren't concerned, so he saved his comments for adults in the conservative movement enabling kids like Cowger and Krohn.
"When 14-year-old boys sound exactly like you do and can produce radio shows and books and speeches that sound exactly like yours, maybe you should rethink the shit that comes out of your mouth.

"Remember the Republican debates we had this year? They applauded for the idea of letting a sick man without insurance die. Herman Cain got cheers for saying he'd electrify the border fence. They booed a gay man serving his country in the military. No wonder 14-year-old boys can do your act, you act exactly like 14-year-old boys. There's no ideology here. It's just about being a dick."
In summation, Maher ended by explaining just how easy it would be for a teenager to host Limbaugh's Sean Hannity's shows: "Step one, be a giant dick. Step two, there is no step two."
Watch the video below, courtesy of HBO:
Have a tip we should know? tips@mediaite.com
Josh Feldman - Senior Editor