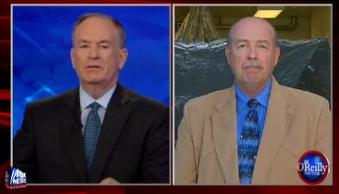 Bill O'Reilly's status as top cable news host probably helped him land one of the last exclusives left in the whole Balloon Boy saga – with Larimer County, CO Sheriff Jim Aldernen.
With Aldernen's slow action in declaring this a criminal case, O'Reilly had some material to work with. And he channeled 'the folks' for his questions.
Aldernen is the guy who saw Falcon Heene say on live TV "we did this for a show," and still believed the family that it the whole thing wasn't a hoax. That is, until he said "this was a hoax" just a couple days later.
"Mrs. Heene is libel for criminal activity if she knew that was a lie, right?" asked O'Reilly.
"There will be criminal charges and we anticipate filing something, probably next week, with the district attorney's office," said Haldernen. "And we believe both Mrs. Heene and Mr. Heene are criminally responsible for this action."
O'Reilly likes to speak for 'the folks' on The Factor, and he did so last night. "I was watching it here," he said, as likely most of Fox News was. "The pain that people who didn't even know the family were experiencing – 'I hope the child is okay' – that was a two hour ordeal!" said O'Reilly.
Haldernen feels your pain, people:
I think that's why the public has been so upset about this, and wants some blood, basically, from the family, because they emotionally bought into this. They suffered along with the parents, except the parents weren't suffering.
Haldernen also said the family will probably avoid jail, but could owe as much as $2 million. How about a few bucks for the suffering public?
Here's the full interview:



—–
» Follow Steve Krakauer on Twitter
Have a tip we should know? tips@mediaite.com