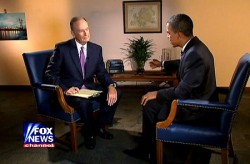 What if, for argument's sake, the government of the most powerful country in the world declared "war" on one of its biggest news operations and no one in the rest of the press batted an eye. Worrisome, no? Not something you'd ever expect to see here in the U.S.A. And yet…
Politico reports today on the (mostly!) eerie silence of the White House press corp. with regards to the West Wing's war on Fox News. Shouldn't a move by the government to delegitimize an entire news operation be cause for concern, as in, the fourth estate is worth protecting even if Glenn Beck resides there. Perhaps not. Or perhaps the press is suffering the same malady as Washington in general: partisanship.
To some media observers, it's almost the definition of a "chilling effect" – a governmental attempt to steer reporters away from negative coverage – but the White House press corps has barely uttered a word of complaint.

That could be because of the perception among some journalists that Fox blurs the line between reporting and commentary – making it seem like not the most sympathetic victim…The Obama White House appears to have concluded that the media is now so splintered that an attack on one is no longer an attack on all.
Of course, as the article points out, this is not the first White House to take out its frustrations on a specific arm of the press. Still, try and imagine anyone keeping this quiet had, say, Dick Cheney had appeared on Meet The Press and not only declared war on MSNBC because he didn't like Rachel Maddow and Keith Olbermann, but encouraged the rest of the press to cease treating it as a bona fide news operation. Of course, considering Fox's soaring ratings perhaps all the other cablers are secretly hoping to become the White House's secret target.
Have a tip we should know? tips@mediaite.com