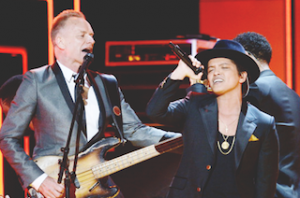 For most of the 55th annual Grammy Awards, host LL Cool J hyped an upcoming, all-star tribute to reggae legend Bob Marley, who would have turned 68 last week had he not died before his time in 1981.
It did not bode well when it was revealed that the tribute would kick-off with a performance by Bruno Mars, who's not exactly a reggae artist. But maybe Mars would put a unique spin on a Marley classic? No such luck. The singer took the stage and performed a fairly standard version of his own song, "Locked Out of Heaven."
Next up was Sting, who joined Mars on stage to continue the tribute. Now, with The Police, Sting was admittedly influenced by Marley, infusing his early music with Jamaican rhythms. But once again, he launched into one of his own songs, "Walking On The Moon." Still not exactly the Bob Marley tribute we were promised.
By the time the band on stage started playing an actual Bob Marley song, "Could You Be Loved," pretty much any good will this performance had was out the window. Marley's eldest son Ziggy Marley came on stage with Rihanna to contribute to a shortened, tame version of the song. And his youngest son Damian Marley, who performs a more modern version of dancehall-style reggae, briefly appeared to drop a few rhymes before the whole thing ended prematurely and CBS cut to commercial.
Overall, it was one of the more disappointing moments of the night, and that includes Taylor Swift's clown-filled, Alice in Wonderland-esque opening song.
Watch the video below, via CBS, if you can bear it:
—
>> Follow Matt Wilstein (@TheMattWilstein) on Twitter
Have a tip we should know? tips@mediaite.com