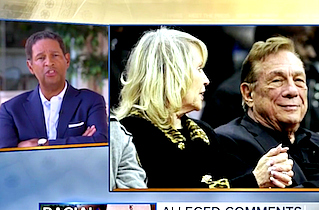 Sports commentator Bryant Gumbel appeared on Meet the Press Sunday morning and argued that the National Basketball Association should be held accountable for Los Angeles Clippers owner Donald Sterling's comments, given that his history of racism was well-documented.

"I guess I'm surprised that anyone is surprised," Gumbel said. "Donald Sterling's reputation is such that one could say that if you keep a vicious dog for a while, and you know he's vicious, you can't be surprised when it bites someone. Donald Sterling's racial history is on the record. It has cost him money. It cost him his reputation long before this."
RELATED: Obama Criticizes 'Ignorant' Sterling Remarks, Laments 'Vestiges of Discrimination'
"And frankly, I'm kind of surprised that the NBA is being let off the hook on this. David Stern and the NBA owners knew what kind of a man Donald Sterling was long before this. In the same way—although I'm not equating the crimes—in the same that after Aaron Hernandez was charged with felonies, people wondered why the New England Patriots had him on their roster to begin with, one can sit here and say, well why did the NBA allow this man to own a team, when they knew what kind of person he was."
MSNBC host Al Sharpton agreed, saying the onus should be on the NBA to act, not on the Clippers players to react.
Watch the clip below, via NBC News:
[Image via screengrab]
——
>> Follow Evan McMurry (@evanmcmurry) on Twitter
Have a tip we should know? tips@mediaite.com