Buddy Roemer Rips Into Mitt Romney, Calls Him A Liar On Morning Joe: 'It Is Disgraceful To Watch'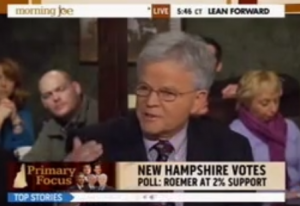 GOP Presidential candidate Buddy Roemer, the former Congressman and Governor of Louisiana who has been shut out of the debates thus far, appeared on Morning Joe Tuesday, and ripped into his fellow GOP candidates — as well as President Obama — for their relationships with their Super PACs and excessive fundraising efforts.
Roemer, who is polling at 2% in the latest New Hampshire poll — doubling Rick Perry's support (1%) — has been running a campaign based on getting corruption out of politics. He wasted no breath hammering his rivals for their ease in getting involved with their Super PACs:
"It is disgraceful to watch Mitt Romney, Jon Huntsman, and the others with Super PACs talk about, oh, they don't have anything to do with their Super PAC. It's a lie. This election is corrupted by Super PACs and big money. And you know who knows? All these guys running for President."
RELATED: New Hampshire Restaurant Bans GOP Candidates: 'No Politicians, No Exceptions'
Roemer acknowledged that while this was all wholly legal, a real leader would recognize how corrupt it is and eschew it. And his message seems to be working, to a degree, in New Hampshire. In the last eight days, Roemer — who won't accept more than $100 from any person or business for his campaign — said he had seen a tremendous uptick in donations. He credited Morning Joe, which has been giving him plenty of airtime the last two weeks, for the exposure.
"Your show helps, I'm telling you," Roemer said. "You're a lot more popular than you think you are." This prompted host Joe Scarborough to face the cheering crowd at JD's Tavern in New Hampshire and take a bow. He then got back to Roemer, who took his fight beyond just the GOP field.
"You talked about Obama being absent, out of touch," Roemer said. "You know why? He's out raising a billion dollars, Joe. He doesn't have time to talk to anybody. Unless you have a big check. Is that the kind of country we're in?"
Willie Geist then tried to get Roemer to pick a candidate, if he doesn't win the nomination. "Which is the least offensive candidate?" he asked.
"They're not offensive and they're not corrupt as individuals," Roemer clarified. "They are gaming a system that is corrupt. I think Mitt Romney is not leading. What's happening is wrong. It is a lie. He has wrapped his money in a lie. And I seen Jon Huntsman funded by his father. I like father and son, but it ought to be done legally."
Watch a slip of Roemer's appearance below, courtesy of MSNBC:
Have a tip we should know? tips@mediaite.com