'Can We Please Cool It With the Nazi Stuff?': Fox's Kurtz Scolds Media Over 'Trump Trauma'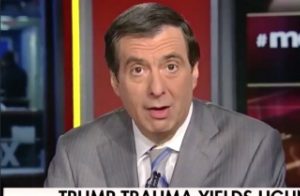 On Sunday's MediaBuzz, Howard Kurtz took various pundits and media figures to task over the panicked name-calling that has taken place since Donald Trump became President-elect.
Though Trump has won the 2016 election, many of his critics remain adamant about calling out his rhetoric and holding him and his alt-right supporters accountable for their actions. As Kurtz noted, however, this has led to objectionable incidents like former Politico editor Michael Hirsh suggesting that people join him in taking a baseball bat to Richard Spencer.
Kurtz noted how people have casually invoked Adolf Hitler when criticizing Trump and his advisors like Steve Bannon. Kurtz was particularly unimpressed that Howard Dean recently came right out and called the future Chief Strategist a "Nazi" over his controversial views.
"It's fine to criticize Bannon over Breitbart's incendiary writings," Kurtz said, "but can we please cool it on the Nazi stuff?"
Kurtz also scolded GQ's Keith Olbermann over his passionate anti-Trump rants and calling senior adviser Kellyanne Conway a "fascist" and a "wretched human."
What a wretched human @KellyannePolls truly is #LeaveOurCountry #Fascist https://t.co/U8gYzY8H9r

— Keith Olbermann (@KeithOlbermann) November 21, 2016
"She is a respected professional in the political world and happens to be a nice person," Kurtz said of Conway. "But none of that matters for those in the media world suffering from Trump Trauma."
Kurtz did offer compliments to CNN's Brooke Baldwin, however, due to how she handled things when a guest on her show said the N-word during an anti-Bannon tangent.
Watch above, via Fox.
[Image via screengrab]
— —
>> Follow Ken Meyer (@KenMeyer91) on Twitter
Have a tip we should know? tips@mediaite.com