Carney Blasts Hong Kong's 'Troubling' Snowden Decision: 'Unquestionably' Damaged U.S.-China Relations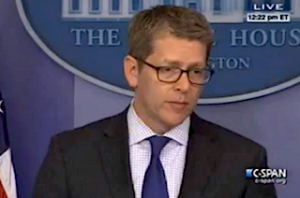 Press Secretary Jay Carney attempted to begin Monday's White House briefing by presenting a new website where Americans can find out more about the Affordable Care Act, but within minutes he was deep into questions about the whereabouts of NSA leaker Edward Snowden and the implications for international relations. Carney said the administration found it "troubling" that Hong Kong allowed Snowden to leave their country and is currently working under the "assumption" that he is in Russia.
Asked about U.S. communications with Russia about Snowden, Carney said we "expect them to look at the options available to expel Mr. Snowden back to the United States to face justice for the crimes with which he is charged." As for how Snowden was able to leave Hong Kong, Carney stated that the U.S. finds that country's decision to ignore the provisions of the U.S.-Hong Kong surrender agreement "particularly troubling."
And on the question of how involved the Chinese government was in the decision to let Snowden go, Carney said, "we are just not buying this was a technical decision by a Hong Kong immigration official. This was a deliberate choice by the government to release the fugitive despite a valid arrest warrant. That decision unquestionably has a negative impact on the U.S.-China relationship." He added, "If we cannot count on them to honor their legal extradition obligations, then there is a problem."
Carney refused to speculate about "repercussions" for U.S.-Russia relations if they choose to let Snowden out of their country without extraditing him to the United States. He noted that the U.S has returned criminals to Russia in the past and "we are expecting the Russians to examine the options available to them to expel Mr. Snowden for his return to the United States."
When asked about why the State Department did not pull Snowden's U.S. passport sooner, Carney noted the "irony" in the fact that because of the Privacy Act he could not discuss a U.S. citizen's passport status with the press.
Watch video below, via C-SPAN:
—
>> Follow Matt Wilstein (@TheMattWilstein) on Twitter
Have a tip we should know? tips@mediaite.com