Carney Calls Out Jon Karl for Asking 2-Week-Old Questions About Obama's Symbolic Enrollment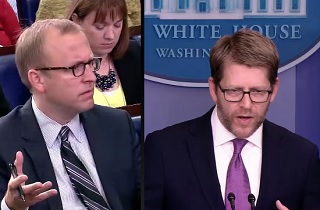 Just before Christmas, the White House announced that President Obama had enrolled in a Bronze health insurance plan, and that the move was largely symbolic. The announcement was widely reported, but at Monday's White House daily briefing — more than two weeks later — ABC News Chief White House Correspondent Jonathan Karl asked Carney about the President's enrollment.
"One last thing," Karl said. "The President, over the break, enrolled in an individual plan. Why did he do that?"
"I think, as we said, when it occurred," Carney began, subtly reminding Karl that this was old news, "this was largely a symbolic move to demonstrate, obviously his commitment, which I don't think could be any clearer, to the Affordable Care Act. You are correct, he gets his military care from the military… his health care from the military, but he enrolled for that reason, because he said he would, and because he believes that as so many millions of Americans have demonstrated in the last several months, it is very much a product that is worth having."
"He did not enroll himself, right?" Karl queried. "His staff did it for him?"
"I think we answered these questions several you — several weeks ago," Carney reiterated, referring to the announcement the White House sent to every reporter on December 23. "He did not physically enroll. I don't think anyone would doubt how busy the President is, or that anyone would doubt that this president is highly computer literate. But his assistant did the enrolling for him."
Opponents of the President made his symbolic enrollment the subject of criticism several weeks ago. Asking questions you already know the answers to is a way for reporters to generate a fresh reaction to, and perhaps fresh interest in, a news story.
Here's the clip, from C-SPAN:
Have a tip we should know? tips@mediaite.com