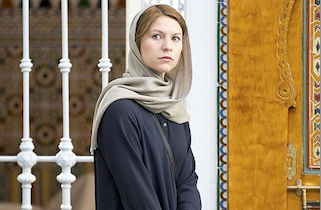 When Homeland's third season ended last December, Sgt. Nicholas Brody (Damian Lewis) was (spoiler alert!) dead and Carrie Matheson (Claire Danes) was pregnant with his baby. In this first look at season four, we see a glimpse of their baby girl. Despite being improbably named Istanbul bureau chief by the CIA at the end of last season, Carrie is in Pakistan, where she continues to deal with the "tyranny of secrets."
There are explosions, one prominent f-bomb and of course a little bit of chasing pills with white wine. Saul Berenso (Mandy Patinkin), Peter Quinn (Rupert Friend) and Dar Adal (F. Murray Abraham) but Dana Brody (Morgan Saylor) is nowhere to be found.
The show, which returns to Showtime on Sunday, October 5th, is coming off of a difficult year in which many fans turned on the show for jumping the shark with its implausible twist and turns. After winning the Best Drama Series Emmy Award in 2012 and getting nominated in 2013, the show was overlooked this year in favor HBO's True Detective.
RELATED: The Cycle Asks Question on Everyone's Mind: Isn't Bergdahl's Story Just Like Homeland?
Showrunner Alex Gansa reacted to the backlash during a panel at the Television Critics Association panel, saying, "The criticism hurt, the lack of an Emmy nomination hurt, but we're going to come back strong and try to get back to the mountaintop."
"We love our show, and we bleed for our show," Gansa said later. "So when there's any criticism that comes back our way, we take it seriously and we take it personally. It's hard for us to view what we've done objectively… I'm biased, but I don't know how you can look at the last six or seven episodes we did last season and not say 'Homeland' is one of the best shows on television."
Watch video below, via Showtime:
[Photo via Showtime]
— —
>> Follow Matt Wilstein (@TheMattWilstein) on Twitter
Have a tip we should know? tips@mediaite.com