Cenk Uygur Leaves MSNBC: 'Didn't Want To Work In A Place That Didn't Challenge Power'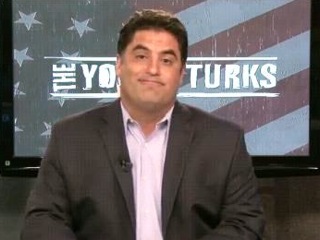 Former MSNBC host Cenk Uygur's departure from the network earlier today was fairly quiet for a close-to-primetime host, and the network made it clear it was his choice to leave. It didn't take long for the newly liberated Uygur to address his fans, however, and explain what exactly he was doing with his career, turning down a different role at the network and much money. In the end, he explained, it boils down to this: Cenk Uygur is a tiger, and MSNBC tried to cage him.
"They offered, honestly, a lot of money," Uygur explains in his message, where he also says the role would have been a smaller one– "contributor, etc."– instead of the alternate program the MSNBC statement suggested. He then explained something an executive once told him when he began as host: "there are two audiences– the audience you're trying to appeal to, the viewers, and management." Management took him aside in April, he explains, and told him to "tone it down" because "people in Washington are concerned about your tone." He did the exact opposite.
Uygur then launches into an extensive analysis of his ratings to prove that he was doing just fine, highlighting the fact that he was doing far better when he decided to do it "my style" than when he was more tame. He used a comment from a viewer to explain how he felt– "watching Cenk on The Young Turks is like watching a tiger in the wild; watching him on MSNBC is like watching a tiger in a cage."
He concluded succinctly that "I didn't want to work in a place that wouldn't let me do my kind of show, that wasn't interested in my kind of show, that didn't wnat to challenge power." Noting that he had been "railing against" a media "desperate to get access" and spoiled with perks, taking the job seemed to him a sort of personal corruption. The statement lasts about ten minutes, followed by a five-minute Q&A with The Young Turks crew that's definitely worth a look– Uygur distances his experiences from the other MSNBC hosts, complimenting them each colorfully– noting what a "smart person" Rachel Maddow is, calling Ed Schultz a "bull," and exclaiming, in a complimentary way, "Dylan Ratigan— I'm shocked that he's still on air!"
Uygur's goodbye to MSNBC below:



Part II

Have a tip we should know? tips@mediaite.com