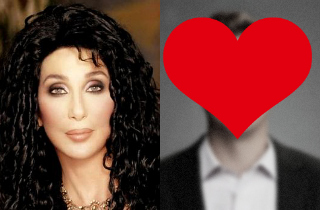 If Cher could turn back time, she could find a way to make MSNBC weekend host Chris Hayes fall in love with her.
The National Enquirer reports that the 66-year-old outspoken liberal entertainer is smitten with the 33-year-old married cable news host, telling her friends that he is the archetypal man for her.

"Cher adores Chris," an insider told the Enquirer. "She says he's the perfect man for her despite the age gap and is bummed out that he's married."
No worries, indeed. After all, Cher believes in life after love.
And so Hayes' nerdy chic-ness has merely prompted Cher to re-evaluate her taste in men: "She doesn't want to mess around with tough guys and bikers anymore," the insider said. "She'd like to finally settle down with a man who can discuss things like world affairs and economic policies."
And so, the insider reveals, Cher is looking for a buttoned-up smart dude: "She's put the word out to all her friends that she's ready and willing to be set up with a lawyer, financier or professor – no hell-raisers need apply."
No word on whether the flames of Cher's desires were fueled by Hayes' MSNBC promo ad featuring him riding a bike across the Brooklyn Bridge with a very safe-looking helmet.
But Cher did go public with her emotions, tweeting that she has a "smart crush" on the Up host.
In other words: If she could reach the stars, she'd give them all to him. Then he'd love her, love her… like he used to do… (in a past life or something).
— —
>> Follow Andrew Kirell (@AndrewKirell) on Twitter
Have a tip we should know? tips@mediaite.com