Chris Christie Requests Labor Day Concert For Atlantic City From Bruce Springsteen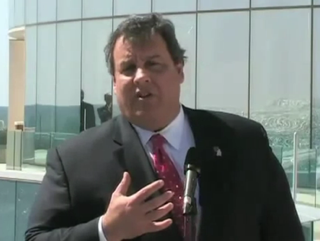 Chris Christie has made a name for himself around the country for being one of the more idiosyncratic governors in the country– as Seth Meyers once said, "you never forget which state he is governor of." Take this somewhat surreal speech Christie gave this week in Atlantic City, where he delicately addresses the political differences between himself and rock person Bruce Springsteen, and asks "The Boss" to play a concert in Atlantic City on Labor Day, for the folks.

RELATED: Christie Equates Non-Romney Candidates With Obama: Be 'Very Leery' Of Congressmen
Apparently this is what one does when one declines a clear popular mandate to run for president: harangue pop stars about social responsibility. "Bruce and I obviously have different points of view is certain areas of politics," Christie says in the speech, with the same sort of seriousness he would use had the name been "President Obama" or "Rep. Nancy Pelosi." Despite their differences, Christie, speaking before the new Revel resort in Atlantic City, suggests that, "Bruce, if he is true to his lyrics, would love the fact that the state used taxpayers' funds to invest in this place" and would be a great person to come down and play a concert. "I would make a direct plea," the governor suggests, joking that Springsteen has "missed out on the opportunity to open this place because Beyoncé has taken the mantle on that," but concludes that it would be "an incredible show of support by Bruce for his home state… to come own here on Labor Day weekend."
It is bizarre, because we're not really used to it. And it's a smart move, as far as being popular in New Jersey goes (who hates Bruce Springsteen in New Jersey?*). But still, one wonders whether his adoration of the gritty man in the dirty pants that spurned Ronald Reagan will become a surprise campaign issue if he runs for President in 2016.
The speech via the Governor's official YouTube below:



*Besides me?
Have a tip we should know? tips@mediaite.com