Chris Matthews Condemns 'Dittohead Thinking' Of Limbaugh Listeners In Speech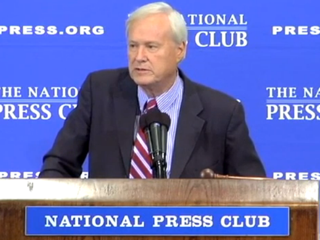 Chris Matthews spoke to the National Press Club earlier this week and had no apologies for the type of programming he puts on air. Answering a question about whether his show might be "responsible for a growing lack of civility," he argued "not at all," suggesting that viewers watch a little bit of everything, "make their own stew," and come to their own conclusions. Otherwise, Matthews added, they would be part of the "dittohead thinking" common among people who listen to Rush Limbaugh.

RELATED: Uncomfortable: Matthews Makes Jim Cramer Squirm, Tries To Get Him To Denounce Donald Trump
Matthews began to answer with the advice that people's "tendency to watch their own show is a mistake," and suggesting viewers "take a look at Fox once in a while" because objective journalism doesn't exist the way it used to. "The days of Walter Cronkite are over; 'that's the way it is' is not going to work anymore." He said he had high respect for the ability of viewers to understand what they are watching, saying, "if you are watching television and can't tell the difference between fact and opinion, you are rare." He also explained what he wanted viewers to get out of his show– a healthy mix of fact and opinion.
"I can't imagine watching my show without reading a good newspaper, you wouldn't know what we were talking about," he noted, as extra incentive for viewers to inform themselves independently of the show and "put your own stew together." He did not think everyone did so however, ceding that there is "some dittohead thinking that goes on in this country, people that listen to Limbaugh." He concluded, "I don't think they're growing, you know?"
The clip from the National Press Clip below:

[h/t The Right Scoop]
—–
»
Follow Frances Martel on Twitter
Have a tip we should know? tips@mediaite.com