Chuck Todd Grills AZ Candidate On Whether It's Fair To Show His Rival Trashing Gabby Giffords In New Ad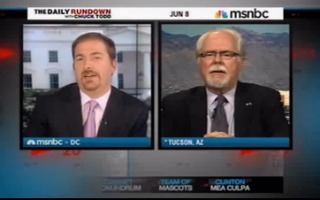 On Friday, Daily Rundown host Chuck Todd spoke with Democratic Arizona congressional candidate Ron Barber about a new ad organized by an outside group on his behalf. The ad has courted controversy by showing —-'s opposition, Jesse Kelly, saying that Giffords "stands there with that smile and pretends to be some kind of hometown hero. She's a hero of nothing." And, although Kelly made these remarks back in 2010, they are particularly striking out of context given that Giffords is currently recovering from having been shot in the head during a January 2011 event in Arizona.
RELATED: Speaker Boehner Sheds Tears After Embracing Gabby Giffords
"Is that ad appropriate," Todd asked after playing the ad, "considering that his words, when he said this, it makes it — it implies that it's about Gabby Giffords after the shooting, when, of course, he said this during the 2010 campaign. Is that fair?"
"Well, I do think, first of all, the video or the commercial has nothing to do with my campaign, as you know," Barber replied. "It's done by an outside group and we have no influence one way or the other over what they say or do in an ad that they do of that nature. And I believe that it the does show clearly it was 2010."
Todd noted that Barber has the option of publicly denouncing the ad. Barber responded by saying he is trying to focus on a "positive campaign," while adding that negative ads tend to work.
Later, Todd asked how Barber differed from Giffords, his former boss. Barber noted that it's important to realize that "this is not Gabby's seat, this is not Ron Barber's seat, this is the people's seat."
Have a look, via MSNBC:
Have a tip we should know? tips@mediaite.com