CNBC Anchor Goes Off On Democratic Congressman: 'Are You Guys Incompetent Or What?'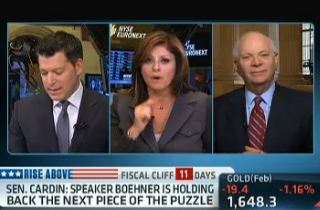 During an interview last week, CNBC anchor Maria Bartiromo went off on Sen. Ben Cardin (D-MD) over what she perceived to be his frustrating insistence that the Republicans are not offering a "balanced approach" in the ongoing "fiscal cliff" negotiations.
"Are you guys incompetent, or what?" Bartiromo pointedly asked the senator, emphasizing that both his party and the opposing Republicans repeatedly accuse each other of not having a "balanced approach" in negotiation to avoid the so-called "cliff."
She continued to berate Cardin: "If you can't do what the American people pay you to do, why don't you just step aside and put somebody in there who can actually get a deal done?"
Cardin responded that he'd like to get a deal done, but the Republican leadership — namely House Speaker John Boehner (R-OH) — have prevented talks from moving forward. This statement set Bartiromo off:
"So how come you're not moving forward? What's the problem? Because the American people are so tired of this, and they are really tired of the lawmakers thinking that the American people are stupid. You can't keep coming on the show every week saying the same thing: 'It's not a balanced approach.'"
At this point, Bartiromo began shaking her head and laughing as Cardin insisted that the Democrats have long been ready to move forward with a deal. Unconvinced and clearly agitated, Bartiromo pointed at the screen and directly confronted Cardin about whether he'd be willing to consider tax code reform as a means to obtaining new revenue.
The senator's response essentially boiled down to "No," and so Bartiromo went off on him again: "You're talking about $1.2 trillion in revenue, but you're not prepared to put anything on the table. People are not stupid!"
Cardin then replied that "the easiest way to get the revenues is to [raise taxes on] the highest income brackets," Bartiromo had enough and ended the conversation: "That's all you want to do. That's it. It's your way or the highway. Raise the rates on the rich. No other way. Your way or the highway. That's it. That's where we are. Thank you, Senator."
As soon as the interview ends, the Wall Street trading floor behind Bartiromo erupts into applause, prompting the anchor to blush and hide her face in hands.
Watch below, via CNBC:

[h/t TheBlaze]
— —
>> Follow Andrew Kirell (@AndrewKirell) on Twitter
Have a tip we should know? tips@mediaite.com