CNN Guest Claims Iran Wants To Come To Agreement With The West Over Nuclear Program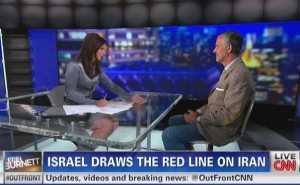 With mounting pressure from the West for Iran to stop its nuclear program, president Mahmoud Ahmadinejad accused the West of engaging in nuclear "intimidation" during his U.N. speech this week. So it was surprising, to say the least, when Hooman Majd appeared on CNN earlier today to tell Erin Burnett that Iran is interested in finding a compromise with the West on its nuclear program, which the government has denied is working on the development of nuclear weapons.
RELATED: Ahmadinejad Wants To 'Eliminate' Israel, Piers Morgan Finds Him 'Charming'
Burnett brought up the "red line" Benjamin Netanyahu addressed during his U.N. speech earlier today, and asked him what Iran is currently doing with its nuclear program. Majd said that this week Iran offered to suspend its uranium enrichment at 20 percent "in exchange for something," and pointed out that a "large portion" of that 20 percent has been used for fuel plates for a reactor in Tehran.
Burnett suggested that for Iran to get from 20 percent to 90 percent could happen "like that," and snapped her fingers. Majd noted that Iran has argued they need the 20 percent for the medical reactor in Tehran because no one would sell them fuel plates. Majd also asked that if Iran is considered "irrational," then how would the Netanyahu's red line do anything to stem that irrationality?
Burnett cited a report from the International Atomic Energy Agency which found that Iran's nuclear program is accelerating, they are doubling their number of high-speed centrifuges, and they do not allow inspectors into their underground bunkers. Majd challenged that last point, saying that there are inspectors at the facility. Burnett wondered if Iran was just trying to stay relevant on the world stage, asking "If they weren't trying to get a bomb, who would care about Iran?"
Majd said Iran is still an important country with a lot of influence in other nations, adding that some of Iran's interests are shared with some of the United States' interests. He made it clear there are many issues Iran has with the U.S., but as a result of the sanctions imposed on Iran, there might be a considerable change in tune.
"Right now, with these sanctions, I think Iran would like to come to some kind of agreement with the West on this nuclear program, but they want sanctions lifted, or at least some of those sanctions lifted."
But it was only last week that al-Hayat Fereydoun Abbasi, the head of Iran's nuclear program, admitted that the government "presented false information" about its nuclear program to the U.N. because "there is no other choice but to mislead foreign intelligence." So if Iran is really interested in coming to an agreement on the nuclear program, it's off to a pretty bad start.
Watch the video below, courtesy of CNN:
Have a tip we should know? [email protected]
Josh Feldman - Senior Editor