CNN's Howard Kurtz Interrogates Democratic Congressman Over Cyndi Lauper Tweets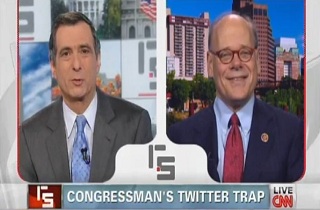 Congressman Steve Cohen appeared on CNN's Reliable Sources after he found himself in hot water again for a scandalous tweet about 80s sensation Cyndi Lauper. Cohen said that the tweet was misunderstood and was a comment on her performance, not her appearance.
Cohen found himself in trouble earlier this year after the State of the Union for a tweet to a 23 year-old bikini model that later turned out to be his out of wedlock daughter. Cohen felt like he was "a victim in the absence of malice" after that incident. This week Cohen tweeted at Lauper that he thought her performance was 'hot.'"
The congressman told Howard Kurtz that the tweet was meant to give attention to a Memphis music show that takes place in his district. Kurtz told Cohen that the entire thing seemed like a stunt to which Cohen agreed. "It was a rouse and I admit that. I guess to take a riff off of Cyndi Lauper 'Congressman just wanna have fun' sometimes, too," he said.
Kurtz pressed him further saying that he had to have known how it would be read by the media. Cohen said that 'hot' was meant as a comment on the show and performance not on her looks or appearance. Cohen said that the scandalous nature that some people gave the tweet had as much to do with his age as anything else.
Cohen chalks up the jumping to negative conclusions by some to the Anthony Weiner incident.
Watch clip below via CNN

Have a tip we should know? tips@mediaite.com