Colbert Sending Flamboyantly Gay Character to Sochi Just to See What Happens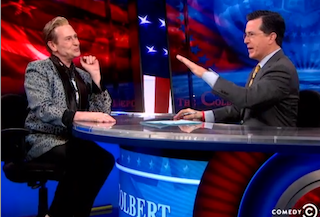 President Barack Obama may have sent Russia a clear message by including multiple openly gay athletes in America's official Olympic delegation, but it's nothing compared to message they are about to receive from Stephen Colbert.
The Colbert Report has enlisted "Buddy Cole," the flamboyantly gay character created by The Kids in the Hall's Scott Thompson to travel to Sochi, Russia on behalf of the Comedy Central show. His mere presence runs the risk of violating Russia's new anti-gay "propaganda" laws, which can land someone in jail for something as seemingly innocuous as waving a rainbow flag.
Colbert began his series with Buddy Cole, titled "From Russia with Love, (But No Gay Stuff)," on Monday night's show. Before the correspondent travels to Sochi, he sat down with Dan Baer, U.S. Ambassador to the Organization for Security and Cooperation in Europe (OSCE) to discuss what Americans can do to stay safe while attending this year's Winter Olympics.
Baer, who himself is openly gay, did not seem to know what to make of the character sitting across from him, especially when Cole asked him things like, "But seriously, don't you think wearing a rainbow shirt should get you arrested? …You can't decide on a color just wear black, or nothing at all. Or just don't go out."
Cole wanted to know what, if anything, he could do to stay under the radar once he's in Sochi. He tried out some basic phrases on Baer that he thought might help if he runs into trouble, such as, "Can you point me to the nearest hardware store?" and "Women, am I right, who needs 'em? Except for their vaginas."
Given the fact that The Daily Show's Jason Jones actually made it to Moscow (as opposed to the usual green screen trick), we can only hope that Buddy Cole gets to Sochi where he can shed light on Russia's ant-gay laws in a way that no other journalist could. And if Jones could come face-to-face with Mikhail Gorbachev, why couldn't Cole sit down for a nice chat with Vladimir Putin?
Watch video below, via Comedy Central:
And, as a bonus, here is Thompson playing the Buddy Cole character on a classic Kids in the Hall episode, via Nerdist:
[photo via screengrab]
— —
>> Follow Matt Wilstein (@TheMattWilstein) on Twitter
Have a tip we should know? tips@mediaite.com