Colbert's Audience Knows Way More About Super PACs than Cable News Viewers Do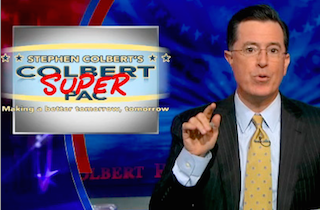 It turns out Stephen Colbert really was performing a public service when he spent the better part of two years promoting his very own super PAC on The Colbert Report. According to a new study published by the Annenberg Public Policy Center of the University of Pennsylvania, viewers of The Colbert Report know far more about super PACs and other campaign finance issues than people who watch CNN, Fox News, and MSNBC, as well as those who get their information from the network nightly news, talk radio and newspapers.
For the study, titled "Stephen Colbert's Civics Lesson: How Colbert Super PAC Taught Viewers About Campaign Finance," the researchers interviewed a random sample of 1,232 adults 18 years or older between December 13, 2012 and December 23, 2012, after the dissolution of Colbert Super PAC following that year's presidential election. The group concluded that watching Colbert "not only increased people's perceptions that they knew more about political financing, but significantly increased their actual knowledge, and did so at a greater rate than other news sources."
"Colbert did better than any other news source at teaching," the lead author of the study, Bruce W. Hardy said. "There were two reasons. First was the narrative structure. He walked us through creating a super PAC and every episode was a continuation of that story. And second was the use of humor and satire."
Watching The Colbert Report, which was true for about a quarter of the respondents, not only correlated with the highest increase in perceived knowledge of super PACs among all media sources, but also with an increase in actual knowledge about how super PACs and 501(c)(4) groups work. Consuming talk radio, newspapers and Fox News produced slight increases in knowledge about the issue, but watching CNN and broadcast nightly news actually correlated with a decreased knowledge in the area. Watching MSNBC produced no discernible difference.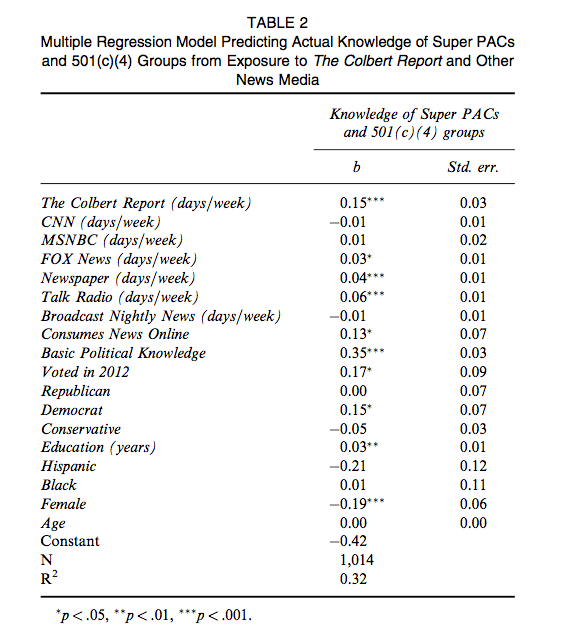 Ultimately, the study concluded that The Colbert Report's use of satire was more effective than any other straight news source in teaching viewers about the role of money in politics. "While our research suggests that political comedy shows like The Colbert Report have the ability to simplify and explain complex issues in a way that fosters learning, it is likely a difficult process for other news programs to replicate," the authors wrote, citing the short-lived Fox News comedy program The 1⁄2 Hour News Show as an unsuccessful attempt to do something similar.
They noted that "the narrative presented in The Colbert Show was unique, with the satirist effectively able to inform by participating in the political process" and add, "given the uniqueness of the opportunity presented to Colbert in the 2012 election cycle, whether Colbert will even be able to replicate what he accomplished on another political topic is a whole other question."
What the authors do not mention is that starting in 2015, Stephen Colbert will be leaving his right-wing pundit character behind to host The Late Show on CBS as himself. In the mainstream context of that show, it will likely be much more difficult for Colbert to execute the type of long-term, educational satire that was Colbert Super PAC. Perhaps John Oliver will have to pick up the slack on his new show Last Week Tonight. After all, he has already shown interest in mobilizing his audience to action on issues like net neutrality.
[Photo via screengrab]
— —
>> Follow Matt Wilstein (@TheMattWilstein) on Twitter
Have a tip we should know? tips@mediaite.com