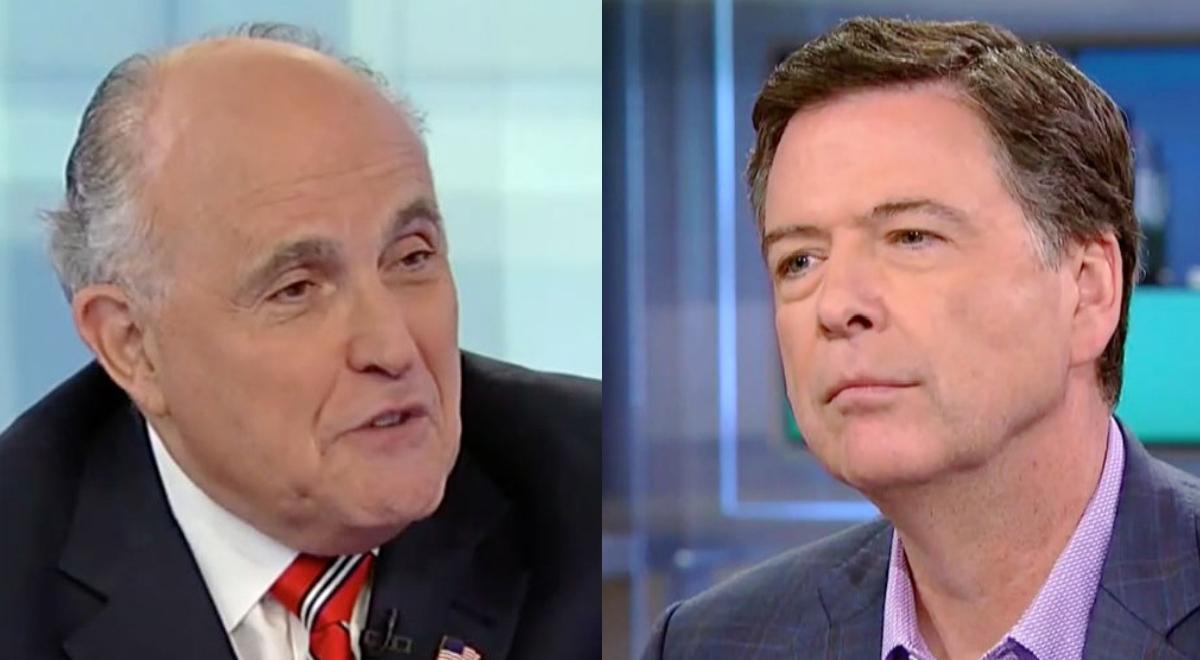 Former FBI Director James Comey told members of the House Judiciary Committee that current Trump attorney Rudy Giuliani may have been the conduit for FBI leaks in the waning days of the 2016 presidential campaign, according to the transcript of Comey's closed-door testimony.
During that testimony, Rep. Raja Krishnamoorthi (D-IL) asked Comey "How concerned were you about leaks from the New York field office to Rudy Giuliani, or other media personalities, in 2016?"
Mr. Comey.
"I was concerned that there appeared to be in the media a number of stories that might have been based on communications reporters, or nonreporters like Rudy Giuliani, were having with people in the New York field office," Comey replied.
"In particular, in I want to say mid October, maybe a little bit later, Mr. Giuliani was making statements that appeared to be based on his knowledge of workings inside the FBI New York," Comey continued, likely referring to an October 2, 2016 interview in which Giuliani teased "surprises" from the Trump campaign.
"We've got a couple of surprises left," Giuliani said during the interview. "I'd call them surprises in the way that we're going to campaign to get our message out there — maybe in a little bit of different way. You'll see and I think it will be enormously effective."
Days later, Comey sent the infamous letter reopening the Clinton email investigation based on activity by the New York FBI office.
Comey went on to tell the committee that "my recollection is there were other stories that were in the same ballpark that gave me a general concern that we may have a leak problem — unauthorized disclosure problem out of New York, and so I asked that it be investigated."
Those concerns prompted Comey to initiate a leak investigation, the status of which he does not know, according to the testimony.
Giuliani admitted that he was questioned about the leaks by the Justice Department, confirming that the investigation exists.
Giuliani denied leaking information from FBI sources, but his public appearances alone were enough to arouse the suspicions of the then-FBI director. Time will tell if his answers to the Justice Department were satisfactory, but it's a safe bet they left no stone un-turned.
[Featured images via screenshot]
—
Have a tip we should know? tips@mediaite.com