Hannity Hates Common's Anti-Bush Rhetoric, But Defended Ted Nugent's Violent Anti-Obama Rhetoric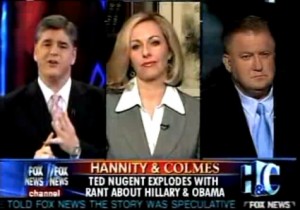 On Tuesday night's Hannity, host Sean Hannity joined a chorus of conservative objectors to rapper Common's invitation to a White House poetry event. In particular, Hannity objected to a line from a Common poem that said "Burn a bush for peace," and said that "If this was somebody who used the same type of rhetoric about violence against President Obama I would be against it."
So what did Hannity have to say when rocker (and regular Fox News guest) Ted Nugent suggested that then-Senator Barack Obama "suck on" his machine gun? Do you think Nugent, who also called the future POTUS a "piece of shit" at that August 21, 2007 concert, got Hannitized for his remarks? Let's watch: (From Hannity and Colmes, 8/21/07, via Media Matters)
That's right, when Bob Beckel asked Hannity if he was "prepared to disavow this lowlife," Hannity's response was "No, I like Ted Nugent. He's a friend of mine."
Of course, any regular viewer of Fox News knows that Nugent continues to be a fixture on the network, including Hannity's show.
Common (formerly Common Sense) has also come under fire from conservatives for lines from that same poem which are suggestive of violence against police, such as "Tell the law, my Uzi weighs a ton." (The Daily Caller helpfully informs readers that "'Uzi' is slang for a compact machine gun." Uzi is actually the weapon's official name, an unwanted tribute to its designer, Uziel Gal.) The line is a reference to the Public Enemy song "Miuzi Weighs a Ton," from the group's debut album "Yo! Bum Rush the Show."
Common's reference, it should be noted, appears to be a warning specifically directed against police who would criminally brutalize the character in the poem, as it is followed by the line "On the streets, they try to beat us like a drum."
As it turns out, Common could apparently dispose of this part of the controversy rather inexpensively. Departed NWA rapper Eazy-E, for whom violent rhetoric about police constituted a pre-breakfast warmup, scored an invite to an event headlined by then-President George H.W. Bush on the strength of some charitable donations. The National Republican Senatorial Committee's then-Director of Communications, Wendy Burnley, said of E's appearance, "Democrats, eat your hearts out!"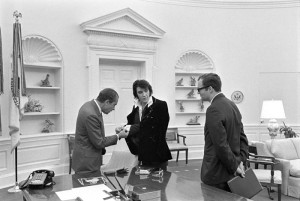 Of course, being a rock star carries Republican perks that even Eazy-E probably couldn't buy. Elvis Presley famously visited President Richard Nixon in 1971, scoring an honorary membership in the precursor to the DEA, and gifting the President with a Colt 45 pistol. Can you imagine Common, or Eazy-E, bringing a gun to the White House?
That contrast really goes to the heart of this feigned outrage. When Ted Nugent talks about putting guns in the President's mouth, he's a 2nd Amendment hero, and a friend to Sean Hannity. When Common talks about defending himself from police brutality, he's a menace to society.
Have a tip we should know? tips@mediaite.com