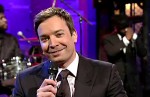 The news yesterday was that Conan O'Brien was not happy about NBC's shenanigans. On his own show, he joked about it, zinging NBC with a much lighter touch than Leno, but still. "Welcome to the show everybody," he greeted the crowd, which seemed to cheer for him extra-long at the start. "We've got a great show tonight – I have no idea what time it will air, but it's gonna be a great show." He also took what could have been a jab at NBC's self-touted 10 p.m. "experiment," saying "NBC has come up with an exciting new idea…they want me to follow Jay Leno." He also joked that He joked that NBC lawyers had advised him to refer to the show as "The Sometime At Night Show With Some White Guy."
For his part, Jimmy Fallon also referenced the NBC mess, opening with a joke about recent air travel nightmares: "There are so many delays at the airport….my flight was bumped from 12:35 a.m. to 1:05 a.m." (Fallon spoke about the drama at a New York Times Arts & Leisure weekend panel, saying he was "just glad to have a show." More here.)


Conan did a later bit where he joked about split-screen showings of him and Leno and showed a funny side-by-side schedule. Truth is the funniest thing in comedy, people! BTW: Both shows were especially strong last night, with Conan hosting Michael Cera, Aziz Ansari (which subsequently trended on Google search, and made me want to buy his upcoming DVD), and OK Go; Fallon hosting Matthew Broderick and Twilight star Ashley Greene, with special guest spot by Jonas Brother Nick Jonas, and a random but awesome Vince Fontaine-like Bandstand-style rap from Jimmy. I will say that of the two shows, Jimmy's definitely seems to have a much stronger identity. I think how far that show has come has surprised a lot of people. (As the internerds would say, IMHO.) Also, Leno was on last night, hosting NBC's Brian Williams, but ah well, you can't catch every late-night show!
Have a tip we should know? [email protected]