Concha: Should ABC Apologize for Airing Steamy Scandal Sex Scene After Charlie Brown Special?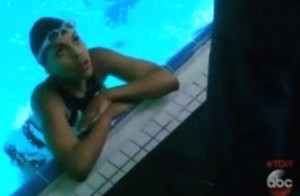 As most of you know, "It's the Great Pumpkin, Charlie Brown" has been an annual broadcast staple. How long? Try every October since first airing in 1966.
Every year growing up, the Charles Schulz special was a must-see in the Concha household, even when needing to resort to setting the old VCR to tape it if football practice ran late. CBS held the rights until 2000, when ABC picked up the ball from there. So when the show aired last Thursday night on the network owned by Disney, everything seemed perfectly normal. But right after Pumpkin ended, almost immediately (as in no commercials or disclaimers), viewers–including parents obviously watching with their children–were thrown into a heated sex scene between Kerry Washington's Olivia Pope and the bad guy from 1990's Ghost who plays the president on the show.
Again, no commercials to allow parents to at least think about changing the channel. No disclaimer warning said parents that an implied no-pants-dance was about to pop on a mere 26 seconds after the cartoon ended. ABC was either completely asleep at the wheel or just didn't think things through very long on this one, but either way, one fairly powerful organization ain't happy with the programming decision.
The Parents Television Council, a conservative advocacy group whose focus is "Bringing back responsibility and family values to the entertainment industry," sent the following letter to the network penned by its president, Tim Winter:
"Shame on ABC for putting a peep show next to a playground. In less than 26 seconds we were taken from the Peanuts pumpkin patch to a steamy 'Scandal' sex scene. Unless parents had the remote control in their hand, thumb on the button and aimed directly at the TV screen, they didn't have a chance. Such a transition is grossly irresponsible by the network and entirely unfair for parents. ABC owes families an apology."
While ABC erred here, it's hard to imagine this was somehow done intentionally. Still, the network has yet to apologize as of Tuesday morning, which one would think would be an easy thing to do here.
But the person who really needs to ask for forgiveness is Scandal creator Shonda Rhimes, who apparently advocates exposing children to sex scenes without warning on national television. Upon one viewer tweeting "The leap from Charlie Brown to the first scene of #Scandal #CloseYourEyesKiddies," Ms. Rhimes thought it was hilarious enough to retweet it.
Is this a huge deal? Of course not, especially considering everything kids are exposed to on network and pay TV regardless of disclaimer or time of day.
But ABC committed an unforced error — one that could have been avoided — and should apologize in some capacity. The same for Shonda Rhimes.
— —
>> Follow Joe Concha on Twitter @JoeConchaTV
Have a tip we should know? tips@mediaite.com