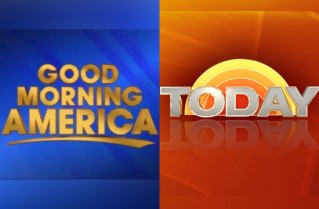 You know the old (modified for the purposes of this column) saying:
If you can't beat 'em, poach 'em!
These days, that appears to be NBC's morning strategy after the network signed Good Morning America's Josh Elliott. Elliott—a former ESPN anchor—will join NBC Sports, but that doesn't necessarily mean he won't be popping up on the Today Show set more often than not when his contract allows him to do so six months from now.
Interestingly, the Elliott departure is may not be due to the simple rule of following the money (TMZ reports Elliott took at least $1 million less to jump to NBC). Why? Because ABC wouldn't match what NBC was offering from a personal long-term perspective, where Elliott could return to his sports anchor roots (as a possible eventual replacement for 62-year-old Bob Costas) while periodically scratching his morning show itch with Today. It's a win-win for the 42-year-old father of two…
Elliott will be following in the footsteps of former GMA weatherman Sam Champion, who got another kind of win-win offer: More money and a chance to host his own morning show on the NBC Universal-owned Weather Channel. A bigger wallet and the opportunity to create an entirely new niche program? It's hard to argue with the decision to leave his ABC home of 25 years with more money and power offered on the table.
Poaching talent in television—particularly in the morning—isn't exactly a new development. The biggest theft (at the time) was CBS luring away Today mainstay Bryant Gumbel 17 years ago. The Tiffany Network did the same in poaching Katie Couric, albeit for a lead anchor position on the CBS Evening News. More recently, CNN has signed some major ABC/ESPN talent as well in the form of Chris Cuomo (GMA), Jake Tapper (ABC News), John Berman (ABC News/GMA), Rachel Nichols (ESPN) and Bill Weir (Nightline).
After a loss of so much talent, so many big names, one would think ABC is scrambling for solutions. But the network mantra in Manhattan appears to match that of the Yankees up in the Bronx:
"We don't rebuild, we reload."
Exhibit A is the easy decision to bring the patently likable and energetic Michael Strahan on board to GMA. Strahan, who will be inducted into the NFL Hall of Fame this summer after a storied career with the Giants, has shown he can master just about any set. During football season, he's an analyst on Fox NFL Sunday's top-rated studio show in Hollywood, only to fly cross-country that night to get back in time for his New York morning gig on ABC's Live! (co-hosting with Kelly Ripa). Now Strahan will need to add GMA to his itinerary and the earlier hours that go along with it. Find me a harder working man in showbiz…I double dare you.
With respect to Josh Elliott and Sam Champion, the glue of GMA is the female members of its cast: Robin Roberts, Lara Spencer and Amy Robach. As you know, Roberts and Robach are both cancer survivors and have done a job an amazing job in educating the public while being an inspiration to all (some critics say the show has exploited their condition…tell that to the families of the millions who die from cancer each year). As for Spencer, she brings the kind of genuine enthusiasm and vitality one can't teach: Viewers can see a phony on a set from a mile away–and there are many–Spencer definitely ain't one of them. And the addition of Strahan will only make this cast more diverse, and that's not because of the former defense end's skin color, but due to the chemistry he creates with seemingly everyone he works with.
As for the ratings gap, Today still has its work cut out for them. Per TVByTheNumbers.com on March 27:
"GMA has ranked No. 1 in Total Viewers in 86 of the last 90 weeks (since w/o 6/25/12), finishing behind "Today" only during the 2 weeks of the 2012 Summer Olympics and the 2 weeks of the 2014 Winter Olympics. In Adults 25-54, "GMA" has ranked No. 1 in 22 of the 26 weeks of the season, pacing ahead of the No. 1 finishes at the same point of the 2012-13 Season (20 of 25 weeks*)."
So the morning wars continue, but one team keeps winning regardless of substantial talent losses.
This time the strategy—at least from NBC's end—isn't to beat 'em, but have some of 'em join your team.
But until ABC loses a Roberts, a Spencer, a Robach, and now a Strahan…GMA may not have much to worry about in the morning.
[Disclosure: Mediaite's founder Dan Abrams is the chief legal analyst for ABC News and Good Morning America.]
— —
>> Follow Joe Concha on Twitter (@ConchaMedia)
Have a tip we should know? tips@mediaite.com