Dan Abrams To Nancy Grace: 'Believe It Or Not, Authorities Here May Actually Have More Information Than You Do'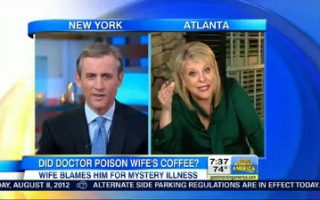 HLN host Nancy Grace and Mediaite founder / ABC News legal analyst Dan Abrams both appeared on Good Morning America Wednesday to weigh in on a case involving a woman who claims her husband poisoned her coffee, resulting in illness.
Host George Stephanopoulos began by asking why a protective order has been granted in this case, yet no charges have been filed. Grace explained that poisoning — which, she pointed out, is a crime most often committed by white females — is very difficult prove, but that the woman claims she saw her husband pour something into her cup and had it tested, revealing that it indeed contained barium.
Abrams pointed out that other factors need to be ruled out, including the possibility that the woman had poisoned her own cup for whatever reason — an idea that made Grace scoff.
Abrams then said that "there's also no rush here, which is that they've got their eye on him. The order of protection is now in place," prompting Grace to note, "Dan, if I tried to poison you in that cup of coffee you have sitting in front of you — I'm only guessing — I guarantee you would not want me stalking around the studio." She then added that it's "easy for you to sit back in an easy chair" and say there's no rush, which in turn prompted Abrams to respond that "it's easy for you to sit there and tell the authorities what they ought to do and how they ought to do it. But let's assume for a moment, and I l know this may be hard to believe, that someone else has more information than Nancy Grace on a story."
"But, believe it or not," he said, "the authorities here may actually have more information than you do."
Watch what happened, via ABC:
Have a tip we should know? tips@mediaite.com