Dana Perino: Obama Administration 'Silly And Petty And Immature' Blaming Bush For GSA Scandal
Dana Perino: Obama Administration 'Silly, Petty, Immature' Blaming Bush For GSA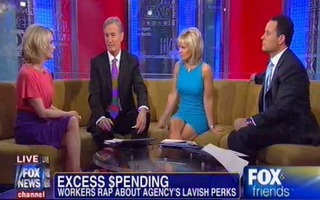 Co-Host for Fox News Channel's The Five, Dana Perino, appeared on Fox & Friends to offer her thoughts on the state of the 2012 race and the recent scandal involving General Services Administration officials.
RELATED: Dana Perino: Media Blamed Bush For High Gas Prices But Are Giving Obama A Pass
Gretchen Carlson first asked Perino to weigh in on last week's story about an extravagant party thrown by the GSA in Las Vegas as well as a rap video that came to light in which GSA agents bragged about wasting tax dollars and the Obama administration's response to the scandal. Carlson asked Perino, "where do we come out in all this, because the White House now blaming President Bush for all this."
"If they wanted to say, and I guess this is true, that the budget for the GSA increased during the Bush Administration, fine. Leave it at that," said Perino. "But nobody in the Bush administration approved this [Las Vegas] meeting – thought it would be a good idea to have mind readers and clowns. And nobody, career official or political appointee, raised their hand and said are we being a little extravagant here. That happened wholly on the Obama administration's watch."
Last week, an Obama administration official placed some of the blame for the cultural corruption issues at the GSA on Bush administration policies and told Fox News that "at least we have taken, bold, swift forceful action to hold those responsible accountable and put in place protections to make sure this never happened again."
Perino went on to suggest that the White House should avoid the temptation to redirect blame for embarrassing incidents like this to other sources. "The White House would have been better served if they didn't trust their instincts," Perino added. "Instead, did something out of character which would be to say, 'this happened on our watch. We're going to try to prevent this from happening and if it does happen we're going to stop it and we're going to take action."
Perino praised the Obama administration for the actions that this incident came to light, but she criticized them for diverting blame for the incident to the previous presidential administration. "To try to blame the Bush administration seems silly and petty and immature," Pernio concluded.
Steve Doocy moved on to the 2012 election and identified President Obama's record on national security as a reelection tactic. "They're going to dispatch [former Secretary of State] Madeline Albright who worked for Clinton and Wesley Clark, retired general, so that any time Mitt Romney mentions foreign affairs, those two will come out and say, 'no, Mitt Romney doesn't know what he's talking about,'" said Doocy.
"I think what they're doing is looking at the calendar between now and November and doing some building blocks," said Perino, identifying what she believes is the White House's long-term strategic thinking on the president's reelection strategy. "So they'll spend a week talking about women's issues and then a week talking about health care or energy, like he tried to that one week. Now this week it's going to be national security – so they build these blocks and have a foundation to come back to."
"I don't think he necessarily wins on national security issues, but I don't think he could lose on them," said Perino. "He basically adopted all of the Bush administration policies. For which, Charlie Savage of the New York Times won Pulitzer Prizes for the coverage about the kind of thing the Obama administration is doing that the Bush administration started. You barely hear about it anymore in any of the papers – so that's a good thing for America."
Carlson wondered aloud if the Obama administration, which she believes has been very successful at framing the national conversation in the media lately, would be able to divert attention to his record on terrorism and trade on his successes prosecuting that war.
"There are foreign policy cases to be made either way but, interestingly, neither George Bush nor Al Gore in the entire campaign was ever asked a question about Al Qaeda," said Perino. "You don't know what your foreign policy challenges will be." She went on to say that she didn't see much contrast between Obama and Mitt Romney and that the primary issues in the next campaign would be the economy.
Watch the segment below via Fox News Channel:
Have a tip we should know? tips@mediaite.com