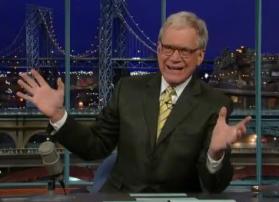 As he has all week, David Letterman took obvious delight in ripping NBC and its late night situation on his CBS Late Show.
But last night he went specific – taking aim at NBCU President Jeff Zucker and other "idiot" NBC executives.
"You have many, many, many top stars, proven television personalities, and their careers and futures are at stake here, all because of the bungling and machinations of the idiots at the NBC executive level," said Letterman, to which the audience laughed nervously but sounded less like a joke than a statement of fact. Letterman later went though some of his personal experiences before leaving NBC, and described "the pinheads and the nitwits and the twits and the knuckle-draggers and the mouth-breathers" he had to deal with.
He also invited the whole late night crew, and executives, on his show – and joked that Jay Leno would be hiding in the closest.
The barbs got specific with his Top Ten list: "Top Ten Messages Left On Jeff Zucker's Voicemail." It started with a simple, "what the hell are you doing," contained two Jay Leno impressions, a shot at Comcast and concluded with "What the Zuck?"
"That's him right there, 'Mr. Television,' ladies and gentlemen," said Letterman, showing a picture of a smiling Zucker, as his audience chuckled.
When all the dust settles from Leno and Conan, the fate of Zucker is certain to become a bigger topic. There are already those writing that this entire screw-up will, or at least should, signal the end of Zucker's reign at the network, especially as Comcast begins to move in.
• Related: Jack Bauer wore a dress last night on the show (because he lost a bet).
CBS YouTube description: "Learn how the current dumb NBC executives weren't the first dumb NBC executives." Ouch. (Below is the Top Ten list):


Top Ten:


—–
» Follow Steve Krakauer on Twitter
Have a tip we should know? tips@mediaite.com