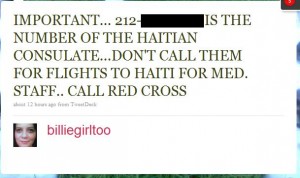 Twitter has taken an increasingly prominent role in reporting on huge-but-far-flung breaking news stories, often acting as a modern day foreign news bureau. While this has been a net positive, there are also some serious hiccups. Daily Dose contributing editor Billie Hill notes that bad, but well intentioned, information on American Airlines' offer to fly doctors and nurses to Haiti for free caused some to report that the offer was a hoax. It was not.
There was a viral tweet going around that directed doctors and nurses interested in the free flights to call a 212 phone number. Hill investigated. She discovered that the number being disseminated was for the Haitian consulate. A well-intentioned attempt to help had become a hindrance to an already overburdened consulate. Compounding the problem, some on Twitter began to suggest that the offer was a hoax because the number was a solid busy signal.
She contacted American Airlines, and a spokesperson told her that the offer was real, but that volunteers needed to make arrangements through the Red Cross or Doctors Without Borders.
Twitter's strength is that its viral power works both ways. Alerted to the problem, Hill began tweeting the corrected information to other media figures, and American Airlines issued clarifications as well.
Another lesson  to be learned here, says Hill, is to be vigilant when re-tweeting. Apparently, the confusion arose when people shortened the original tweet to accommodate the 140 character limit, and omitted crucial information.
So, to clarify, American Airlines is flying medical volunteers to Haiti, but only when arranged through a relief organization like the Red Cross.
Have a tip we should know? tips@mediaite.com