Debbie Wasserman Schultz Says Bernie Sanders Seemed to 'Justify' Violence and Intimidation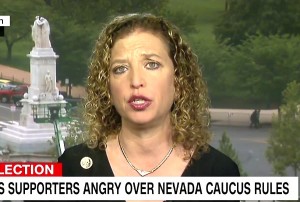 The fallout from this weekend's chaotic Nevada Democratic Convention has sparked a full-blown feud between Independent Senator and Democratic presidential candidate Bernie Sanders and Democratic National Committee Chairwoman Debbie Wasserman Schultz. Following the state convention, Sen. Sanders issued a statement condemning the violence, a statement which Wasserman Schultz says "falls short" because the denunciation is followed by a seeming justification for the behavior of his supporters:
With all due respect, when there is a 'but' in between condemnation of violence generally, and after the word 'but' you go on to seemingly justify the reason that the violence and intimidation has occurred, then that falls short of making sure that going forward this kind of conduct doesn't occur in the future.
Schultz went on to talk about the threats and other intimidation that Nevada state Democratic Chair Roberta Lange has endured in the weekend's aftermath, and urged Sanders, along with the Clinton campaign, to make sure this behavior is not repeated.
In his statement, Sanders said that "Our campaign of course believes in non-violent change and it goes without saying that I condemn any and all forms of violence, including the personal harassment of individuals," and then added "But, when we speak of violence, I should add here that months ago, during the Nevada campaign, shots were fired into my campaign office in Nevada and apartment housing complex my campaign staff lived in was broken into and ransacked."
In the following paragraph, Sanders then began to discuss the behavior of the Democratic Party apparatus, saying "If the Democratic Party is to be successful in November, it is imperative that all state parties treat our campaign supporters with fairness and the respect that they have earned. I am happy to say that has been the case at state conventions in Maine, Alaska, Colorado and Hawaii where good discussions were held and democratic decisions were reached. Unfortunately, that was not the case at the Nevada convention. At that convention the Democratic leadership used its power to prevent a fair and transparent process from taking place."
It is the inclusion of that critique in a statement condemning violence to which Wasserman Schultz was referring.
Have a tip we should know? tips@mediaite.com