Dem. Rep. Dismisses Benghazi Hearings: Is This Really More Important Than North Korean Nukes?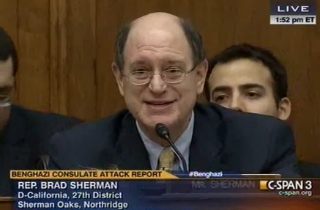 Immediately after Rep. Gary Ackerman (D-NY) made news by using his speaking time at the congressional Benghazi hearings to lambast the GOP and apologize to testifiers for being "used" as in a partisan "ruse," Rep. Brad Sherman (D-CA) piled on, calling into question the very existence of the hearing and suggesting that everyone involved had better things to focus on.
Sherman began by suggesting the Republicans were hypocritical for calling into question diplomatic security only now: "We've lost 11 diplomats in the 10 years before Benghazi and our focus on diplomatic security was modest. But now it becomes the preoccupation of this committee and the preoccupation of foreign policy, those concerned with foreign policy nationwide. Why now?"
"Partly because," he explained, "we lost an ambassador and a great man. But mostly it's now Benghazi is not just a loss of diplomats — we've lost 11 before — but now because now there's a partisan advantage to be sought by one side or the other."
Sherman than dismissed the notion of these Benghazi hearings being of any importance compared to other serious matters:
"This incident in Benghazi was important, but is it really more important than the North Korea nuclear program? Is it really more important than many of the other subjects that have not been the subject of so many hearings of this committee? We have now decided to focus on diplomat security in part because we can blame one party or the other. We can blame the State Department for not allocating its resources to diplomatic security or blame the Republican Congress for not appropriating enough. We should do more for diplomat security. The State Department should follow its own procedures and we haven't done so."
Ultimately, Sherman concluded, sometimes diplomatic security is out of our control: "The fact is that bad things are going to happen to good people even if we are prudent and careful. And ultimately the security of our diplomatic personnel depends not on our own actions but the host country," he said.
Watch below, via CSPAN 3:
[h/t TheBlaze]
— —
>> Follow Andrew Kirell (@AndrewKirell) on Twitter
Have a tip we should know? tips@mediaite.com