Dem Sen More Outraged over U.S. Effort to Democratize Cuba than Cuban Repression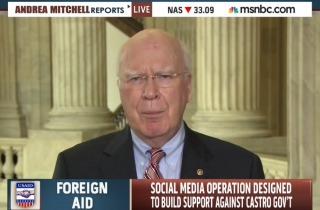 An Associated Press investigation revealed on Thursday that the United States government was behind a secret plot to establish a microblogging service inside communist Cuba. The effort to create a democratizing online platform not unlike Twitter in that repressive country, a platform which has facilitated revolutionary action in many nations around the world and helped topple a number of repressive regimes, has outraged Sen. Patrick Leahy (D-VT).
Joining MSNBC host Andrea Mitchell, who also seemed unnerved by the temerity of the U.S. government to establish a secret program via USAID with the aim of spreading democracy to Cuba, Leahy said that the mission undermines the effort to ease trade restrictions with the Caribbean socialist nation.
The AP's investigation revealed on Thursday that this two-year-long program, which attempted to introduce social networking to young people in Cuba, was done so with an eye toward maintaining layers of deniability in order to shield federal agencies from having to take responsibility for it. However, users were not aware, nor was the government in Havana, that the U.S. was behind the project. Further, AP could not confirm whether the operation was legal under American law because members of Congress were not notified of the program and the White House has not said whether it approved of it.
"USAID and its contractors went to extensive lengths to conceal Washington's ties to the project, according to interviews and documents obtained by the AP," the report disclosed. "They set up front companies in Spain and the Cayman Islands to hide the money trail, and recruited CEOs without telling them they would be working on a U.S. taxpayer-funded project."
Leahy is quoted in the AP story expressing his dismay over the fact that neither he nor his fellow members of Congress were briefed on the project. He added that the program, administered by USAID, may be tied to the imprisonment of USAID subcontractor and American national, Alan Gross, in Cuba.
Leahy appeared on MSNBC on Thursday to expand on his concerns and, in the process, made a clarifying comment which brought into focus the reasoning behind his opposition to a U.S.-backed Cuban Twitter.
Calling it "dumb, dumb, dumb," Leahy took a firm stand against not only the program's methods but its aims as well. His vehement opposition to what seems to be merely an effort to spread democratic communications technology into a repressive state became clearer when he used the term "regime change" to describe the program's goals. Leahy noted that it would be an assumption on anyone's part to suggest that an operation with that stated mission "would ever make sense."
He went on to say that the impetus for such a mission was rooted in an ideology more at home in the 1950s than today; namely that the Cuban regime is a monstrous aberration and should be actively destabilized whenever possible.
Mitchell said that those Cubans who signed up for the program are now targets of the Cuban government, though she said nothing of the nature of a goverment that views social media users as valid targets. Leahy agreed and added that this operation endangers the liberal goal of ending the Cuban embargo.
Ah.
"We're not going to expect them to have a Jeffersonian democracy any more than they expect us to have Marxist communism," Leahy said, embracing what was once called the soft bigotry of low expectations.
Leahy has his priorities reversed. Easing trade restrictions on Cuba, which adversely impact the population more than the repressive political class, should be a priority. Know which conditions would yield an easing of those restrictions? The collapse of the Castro government. That might also secure the release of Gross, whose crime was to provide Cuban Jews with satellite radios.
One would think it obvious that the United States should support, and work towards, the overthrow of that repressive and anachronistic regime. Why, then, is Leahy's outrage so myopically directed at the actions of the United States? Given his willingness to equivocate for the Castros, it would seem that delivering the Cuban people from repression is simply not a priority for Mr. Leahy.
Sen. Leahy's concerns over the legality of this program, though possibly self-serving because it was his committee that was bypassed, are valid. Furthermore, his apprehension over USAID spearheading this operation are also perfectly appropriate. However, the fact that neither Leahy nor Mitchell — devoting her entire A block of programming to the AP's revelation — could not move themselves to issue even a fleeting bit of praise for the goal of democratizing Cuba is deeply revealing.
And what was revealed was not flattering.
Watch the clip below via MSNBC:
[Photo via screen grab ]
 — — 
> >Follow Noah Rothman (@NoahCRothman) on Twitter
Have a tip we should know? tips@mediaite.com