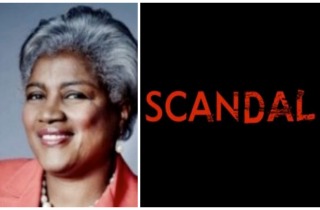 The New York Times on Wednesday published a lengthy and braggy letter from Democratic National Committee Vice Chairwoman Donna Brazile in which she hypes up all her TV cameo appearances and slides in a nice little pitch for a cameo ABC's Scandal.
Brazile's letter to the Times came in response to a TV critic at the paper who wrote that real-life political players are a "distraction" that "flatten every scene" when they appear in TV dramas.
"On every show that I have been on, I have played myself. How badly could I botch that?" Brazile writes. "I can understand people complaining if I was playing Rand Paul or something. But when I play myself, all I have to do is be myself — and resist the temptation to tell the director 'That's not what I would say.' If a critic doesn't think I can act, it's because I'm not acting. That's me — and that's the way I act." (So, Brazile isn't acting, okay?! Though, curiously, she tweeted a link to her letter with the comment "Why I enjoy acting…")
In the letter, Brazile notes that she has appeared on CBS's The Good Wife three times and once on the Netflix series House of Cards. "Did I mention that I also appear on cable?"
And then she makes it clear she'd also like to be on the ABC political drama Scandal:
Incidentally, my favorite show is Scandal, but I've never been asked to be on it. Watching "Scandal" is a fun and exciting guilty pleasure, which is how I imagine most real scandals start out.
If Scandal won't come to Brazile, Brazile will come to Scandal.
#ThisTown.
[Photo via ABC/Donna Brazile]
— —
>> Follow Eddie Scarry (@eScarry) on Twitter
Have a tip we should know? tips@mediaite.com