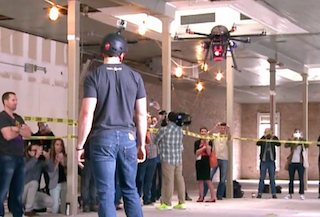 That drone that brings you beer is looking better every day. This weekend at Austin's SXSW festival, the company Chaotic Moon tried their new CUPID hexacopter drone, which is equipped with an 80,000-volt stun-gun, on — who else? — one of their interns.
Chaotic Moon co-founder William Hurley, or "Whurley" as he prefers to be called, spoke to The Verge about the drone before the demonstration. He said he envisions the CUPID as a tool that homeowners could use to protect their private property when they are off-site. The person in control of the device would be able to see video from the drone and have to option to "detain or authorize." Similarly, it could be used by police officers to subdue suspects without risking harm to themselves.
Intern Jackson Sheehan found out what the "detain" function felt like when he received the 80,000-volts to his back, dropping to ground on a safety mat and clearly feeling some level of pain. While there was someone controlling the drone the whole time during the demo, Hurley said it is capable of detaining someone in a completely autonomous way.
Hurley said the company decided to introduce the product at SXSW to "start a conversation" about whether a drone that tasers people is something we want to have as a society. One person who will likely have strong opinions on the matter is Sen. Rand Paul (R-KY) who has been an outspoken critic of drone technology. When he spoke at CPAC in 2013, one excited fan greeted him by yelling, "Don't drone me, bro!" (in reference to a college student who shouted "Don't tase me, bro!" to police who were trying to remove him from a John Kerry speaking event).
You could try saying "Don't tase me, drone" to the CUPID, but it's unlikely that it would listen.
Watch the demonstration below, via Chaotic Moon:
And watch the interview with Hurley below, via The Verge:
[photo via screengrab]
— —
>> Follow Matt Wilstein (@TheMattWilstein) on Twitter
Have a tip we should know? tips@mediaite.com