Elizabeth Hasselbeck Confronts Bill Maher Over Joke In Uncomfortable View Segment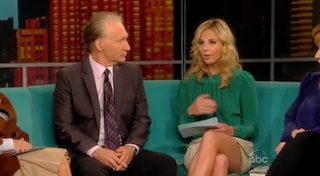 Things got very, very uncomfortable today over at The View thanks to an appearance by Bill Maher. Last February on Real Time, Maher had made a joke that, were Hosni Mubarak to release the then-captured Lara Logan, they could trade him Elizabeth Hasselbeck. At the time, Hasselbeck had been furious, starting a mini feud that an unrepentant Maher seemed to have no interest in fighting. That dynamic was continued all these months later as Hasselbeck was still very, very upset and Maher was still very, very uninterested in fighting her.
Hasselbeck was clearly ready to go at it from the moment Maher took the stage. After he made a joke about Republicans and then jokingly apologized to her, she said he could apologize later. But she then decided it couldn't wait and jumped right into it, bringing up the joke as well as the horrible circumstances that we now know befell Logan in Egypt (it is important to note that Maher made the joke a week before those details were released). An annoyed-seeming Maher quickly responded that he does a comedy show, she's a public figure, and, as such, she's "fodder for comedians to make comments on."
What made the moment so uncomfortable is that Hasselbeck seemed completely by herself. Not only did some of the audience seem to chuckle at the joke, her co-hosts seemed peeved she even brought it up. Joy Behar joined Maher in defending the right of comedians to walk the line of good taste while Barbara Walters reminded Hasselbeck that she had had to deal with years of "Baba Wawa."
Walters was clearly trying to ease the tension but it seemed that the slightly condescending way she told Hasselbeck that she'd "be fine," didn't do much to placate the host's temper.
Watch the clip below:
(h/t HuffPo)
Have a tip we should know? [email protected]