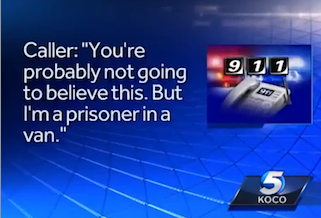 What would you do if you accidentally escaped from prison? That was one Oklahoma prisoner's dilemma when he found himself in a police van that two fellow inmates commandeered and then left by the side of the road, escaping on foot. Joshua Silverman decided to pass up a shot at freedom and instead called 911.
"Uh, yes, ma'am, you're probably not going to believe this, but I'm a prisoner in a van, and I'm here with a couple of these other cats," Silverman told the 911 operator Tuesday. "A couple of the guys that were in the van jacked the van at the hospital."
Eight prisoners took off in the van after guards left them in the back with the keys in the ignition and the air conditioning running while they dropped off another ill inmate at a local hospital. After two of the men ditched the van and took off on foot, Silverman found a cellphone in the van and called 911. "We're in Oklahoma somewhere. I don't know because we're not on a road and I'm not from here," Silverman told the dispatcher. "I just don't want to get shot by no cops or nothing."
Silverman, who is serving a sentence on drug-related charges, may have actually helped police locate the two men on foot, Lester Burns and Michael Coleman, who were apprehended later that day. "It helped us locate them a lot quicker," Weatherford Assistant Police Chief Louis Flowers said. "We didn't know what direction they were traveling in and his call helped us" find them.
Watch video below, via KOCO-TV:
[h/t TheBlaze]
[photo via screengrab]
— —
>> Follow Matt Wilstein (@TheMattWilstein) on Twitter
Have a tip we should know? tips@mediaite.com